Average user rating:

4.5

out of 5 stars based on

49

reviews from the install base.
Up to three NetGuardian DX Expansion Units can be added to compatible NetGuardians, providing 144 additional alarm points.
The NetGuardian DX G4 Expansion Units are low-cost, self-contained devices that provide compatible NetGuardian series remotes with an additional 48 ground-activated discrete alarms. With NetGuardian DX expansions, your NetGuardian RTU can scale to the needs of your site, so you don't have to deploy new RTUs as your needs grow. Daisy-chain to 3 NetGuardian DX expansion units to your compatible NetGuardian RTU, to increase your capacity by 144 discrete points.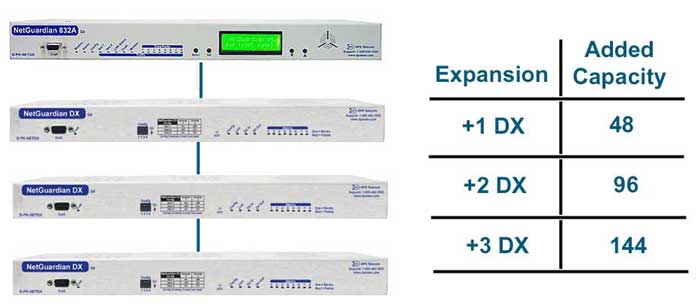 To simplify expansion, each unit is equipped with dual RS232 ports allowing you to daisy-chain your NetGuardian expansions together.
Low cost method of expansion to existing NetGuardian units
Provides additional capacity over existing communication lines
Report more alarms to the same address
Adds 48 ground activated discrete alarms per expansion
RS232 ports make connecting and daisy-chaining expansions easy
LED indications of alarms and communications status
---
Client Reviews (show all)
---
Need a Quote?
Get it by: 6:45 PM Friday (today)
12:34 PM Friday
We'll Start Work on Your Detailed Quote
6:45 PM Friday
Get Your Quote (Email PDF)
It's 12:29 PM on Friday at our Fresno, CA, USA headquarters. We can start on your quote right away.
Would you rather just call us? We're in the office right now. Call 1-800-693-0351.
Get a Quote