Full specs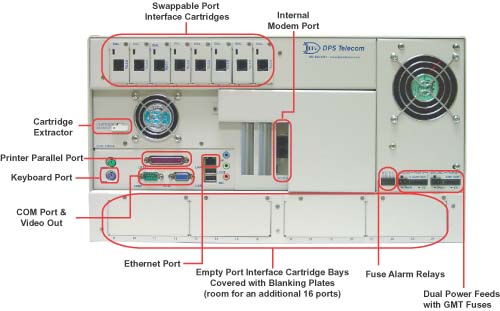 The all-new
T/Mon NOC
delivers faster processing power, especially for ASCII and
SNMP
alarm processing, and is fully compatible with your existing T/Mon database.
Full Specifications
Protocols (Input):
ASCII, Badger, Cordell, DCM, DCP, DCPf, DCPx, DNP3, E2A, Felix, FX8800, Granger, Larse, Modbus, NEC, NTP, Ping, POP3, Pulsecom, SNMP, TABS, TBOS, Teltrac, T/MonNet, TL1, TRIP, X.25
Protocols (Output):
ASCII, DCM, DCP, DCPf, DCPx, E2A, NEC, Pager, Ping, SMTNP, SNMP, TABS, TBOS, Teltrac, TL1, T/MonNet, T/MonNT, TRIP, X.25
Protocols (Remote Access):
DTMF, Remote Access, T/GrafX
Dimensions:
11.25" (7RU) H x 17" W x 14" D (with Slide Rack)
Mounting:
19" or 23" rack
Power input:
Dual -48VDC or 110 VAC (depending on ordering options)
Fuse:
Two 5-Amp GMT fuses
Serial Ports:
24 ports
Serial Port Interfaces:
RS-232, RS422/485, 202 modem, 1200 baud modem, 33.6K modem, FSK modem, PSK modem
LAN Interface:
10/100 BaseT
T/AccessMW COM Port:
1
Modem:
56K baud internal modem (for dial-up console access)
Processor:
2.4 GHz Intel Pentium 4
Hard Drive:
Dual 80 GB (7200 RPM)
Slots:
6 PCI, 1 AGP
Fans:
2 internal, 1 CPU
Removable Storage:
1.44 MB floppy disk drive, CD drive
Visual Display:
Front panel LCD, SVGA monitor connection
Hardware Warranty:
2 years
Unit Controls
4 LCD menu control buttons
Operating Temperature:
41 to 95 degrees F (5 to 35 degrees C)
Operating Humidity:
0% to 90% (non-condensing)
Need a Quote?
Get it by: 4:15 PM Monday (tomorrow)
8:00 AM Monday
We'll Start Work on Your Detailed Quote
4:15 PM Monday
Get Your Quote (Email PDF)
It's 8:21 PM on Friday at our Fresno, CA, USA headquarters. We'll start work on your quote first thing on Monday.
Get a Quote