Overview of The TempDefender IT


Works perfectly to guard your server room.
Designed to protect your equipment rooms from unseen threats...
Small form-factor saves on valuable rack space

Plug 'n' Play design - Start monitoring in minutes

SNMP-compatible - Send traps to your SNMP manager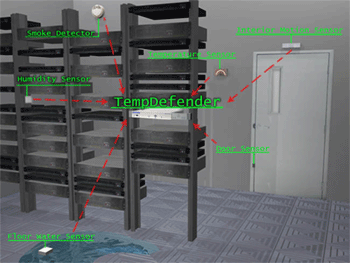 Receive 24/7 email notifications when environmentals cross your thresholds

4 D-Wire sensor inputs (each D-Wire sensor port supports multiple "daisy-chained" sensors, with a max. of 16 sensors per unit)

Telco-grade casing for enhanced durability

Built-in web interface to monitor from any PC on the network

Monitor temp, environmental, and security conditions in your server room or data center

Private VLAN Support

Spring clamp connectors for easy alarm termination
Could you estimate how much money your company has invested in your IT server room or data center? How much is your network uptime worth to you? These questions might be difficult to answer, but monitoring your valuable IT equipment certainly doesn't have to be.
Meet the TempDefender IT
The TempDefender keeps tabs on all the environmental levels that affect your servers, phone closets, data centers, and other equipment locations. The 8 discrete alarms on the back panel of the TempDefender monitor your dry contacts, such as motion sensors, UPS, smoke detectors, flood sensors, AC and room entry. The 4 D-wire sensor inputs on the back panel allow you to monitor up to 16 analog sensors, giving you the analog capacity to keep on top of environmental conditions at your site.
Full Specifications

The TempDefender IT can monitor your server room/closet with smoke detectors, humidity sensors, floor water sensors, temperature sensors, and more.
Discrete Alarms.
8
D-Wire Sensor Inputs.
4 (up to 16 sensors via daisy chaining).
Control Relays.
1 or 3 (for Tower Lights) build options.
Ping Targets.
32.
Interfaces.
Spring clamp connectors for discretes and relays.
4 - RJ12 jacks for digital sensors.
1 RJ45 10/100BaseT Ethernet port.
1 Barrel plug connector for unit power.
(Other power connectors available upon request).
Network Security.
VLAN.
Protocols.
SNMPv1 and SNMPv2c.
HTTP or HTTPS.
Telnet.
DCPx.
Email (up to 8 email addresses).
ICMP.
Dimensions.
4"L x 11.5"W x 1.7"H
Weight.
1.5 lbs.
Mounting.
19" rack or wall mount
Power Input.
+24VDC via 110VAC wall transformer (12V to 30VDC)
-48VDC (-36 to -58VDC) optional
-24VDC (-18 to -36VDC) optional
+12VDC (+11 to +30VDC) optional
130VDC optional

Audible Notification.
Yes, via front panel speaker.
Operating Temperature.
32 to 140 degrees F (0 to 60 degrees C).
Operating Humidity.
0% - 95% non-condensing
RoHS.
Yes (5/6).
Screenshots and Descriptions
The TempDefender IT includes an easy-to-navigate web interface that boasts several time-saving new tools. Menus load very quickly, and alarm statuses update automatically without requiring a page refresh. Look below for screens of the new setup wizards that make it easy to configure email and SNMP notification schedules.


Monitor Real-Time Sensor Readings - monitoring your analog values has never been easier. Each sensor displays its monitored values in gauge form - so you can easily see the status of your alarms in a graphical display.


Easy-to-Configure Analog Sensors - When you plug in a sensor, the TempDefender will automatically determine the sensor's type and necessary settings. You don't have to worry about reference values or other complicated settings. Just plugin the sensor, set your thresholds, and you're ready to go.

TempDefender Sensor Ordering Options

Track your environmentals with D-Wire Sensors
D-Wire sensors are a way to track environmentals in your server room (wide range temperature support: -40 to 180 degrees F), PBX closet, or data center using minimum analog capacity. With the TempDefender's D-Wire sensors, you don't have to worry about analog capacity on your RTUs, tangled masses of sensors at your RTU, or even the trouble of wiring analog connectors.
D-Wire sensors from DPS use simple RJ-11 connectors, in and out, and allow you to chain up to 16 sensors to a single TempDefender D-Wire port. Your sensor chain can run a maximum of 600 feet, so you can run sensors out as far as you need to monitor your equipment, without having to place analog-capable RTUs in multiple places. Note: Internal D-Wire sensors (for internal temperature or internal voltage monitoring, for example) impact total sensor cable length.
The maximum length of a D-Wire daisy chain varies depending on the number of sensor nodes in the chain. A single sensor can receive power and transmit data over 600 feet of wire (for example, 3 sensors could have lengths less than or equal to 200 feet). Adding sensors to the chain consumes more power and reduces the maximum allowable wire length, as described in the table below:

Temperature Sensor. (D-PK-DSNSR-12001)
Temperature sensor that connects to the DPS Sensor network. This sensor can report live-analog values for monitoring temperature within +/-2 degrees F.

Temperature & Humidity Sensor. (D-PK-DSNSR-12002.00002)
Monitor temperature and humidity using the D-Wire Temperature and Humidity combination sensor. This device can accurately report the live-anlog values for temperature (+/- 2 degrees F) and humidity (+/0 4% RH).

Temperature Sensor w/ LED. (D-PK-DSNSR-12003)
An additional LED on this D-Wire Temperature Sensor gives a visual notification on the sensor. Much like the standard Temperature Sensor, this device will monitor live-analog values and can report temperature within +/- 2 degrees F of the actual value.

Batt.Cell Voltage Sensor. (D-PK-DSNSR-12004)
Battery Voltage Monitor & Temperature Probe that connects into the DPS Sensor network. This sensor is ideal for the digital inputs located on the Battery Voltage Monitor G2. Battery voltage range options include: 0VDC - 5VDC, 0VDC - 12VDC, 0VDC - 16VDC, and 0VDC - 60VDC.

Temperature External Sensor Probe. (D-PK-DSNSR-12008)
External 8 foot temperature probe wire that is compatible with the DPS sensor network. This sensor may be plugged directly into a D-Wire point of a DPS RTU or may be the terminating point of a daisy chain of D-wire sensors. Note: This sensor probe is not daisy chainable.
Maximum Allowable D-Wire Cable Length
Sensor Nodes
Max Length (ft)
1
600
2
600
3
600
4
600
5
600
6
600
7
600
8
600
9
600
10
600
11
600
12
600
13
600
14
600
15
600
16
600
Note: Distances will vary depending on D-Wire capable RTU. Consult applicable product section for product-specific D-Wire information. DPS recommends that no more than 16 sensors are used on a single chain, although up to 32 are supported on some platforms.
D-Wire Temperature and Humidity Sensor Full Specifications
Dimensions:
2.25"H x 1.625"W x .9375"D
Weight:
0.38 lb
Operating Temperature:
-40 to 180 degrees F (-40 to 82.2 degrees C)
Accuracy
+/- 2 degrees F and +/- 4% RH
Aggregate Length:
40 to 800 feet
Data Center Management Techniques
To receive a price quote or ROI analysis, call 1-800-693-0351.