Ethernet port.
1 USB front-panel craft port.
1-4 RJ11 Connector for D-Wire sensor network (optional).
1 RJ11 Connector for Telco.
Visual Interface:
7 front panel LCDs
Dimensions:
1.75"H x 17"W x 5.625"D (4.5 cm x 43.2 cm x 14.3 cm)
Weight:
2 lbs. 5 oz. (1.063 kg)
Mounting:
19" or 23" rack
Power Input:
+/- 24 to 48 VDC
Current Draw:
60 mA @ 24VDC
Fuse:
Internal Resetable
Operating Temperature:
32 to 140 degrees F (0 to 60 degrees C)
Operating Humidity:
0%-95% noncondensing
Find temperature, humidity, and many other
discrete and analog sensors for your DPS RTUs.
Build Options
Power Inputs
-24 VDC nominal (-18 to -36 VDC)
-24/-48 VDC (-18 to -58 VDC) Wide Range.
+24 VDC (+18 to +36 VDC)
+12 VDC (+11 to +18 VDC)
Power Over Ethernet (POE)

Modem
33.6 K internal (Optional Build)
Discretes
6 alarms and 2 controls (Optional Build)
Analogs
8 (Optional Build)
D-Wire Support
1 built in temp sensor.
Accessory Options
D-Wire Support


The NetGuardian ENV can support up to 15 D-Wire Sensors. Even if your site is small, the NetGuardian ENV can help you monitor site temperature, humidity levels and more.

HID Proxy Reader with Keypad


The NetGuardian ENV can support a proxy reader with keypad, such as this HID proxy reader. This gives you the capability to control building access with the use of key cards.
---
Get a Custom Application Diagram of Your Perfect-Fit Monitoring System
There is no other network on the planet that is exactly like yours. For that reason, you need to build a monitoring system that's the right fit for you.
"Buying more than you need" and "buying less than you need" are real risks. You also have to think about training, tech support, and upgrade availability.
Send me a quick online message about what you're trying to accomplish. I'll work with you to build a custom PDF application diagram that's a perfect fit for your network.
---
Make an Informed Decision
Your network isn't off-the-shelf.
Your monitoring system shouldn't be, either.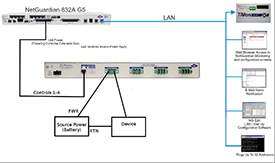 We'll walk you through this with a customized monitoring diagram.
Just tell us what you're trying to accomplish with remote monitoring.
Get a Custom Diagram