Related Articles
For NetGuardian 832A G4 users looking at substantial new deployments, you might want to consider migrating to the new G5 platform. This enhanced RTU gives you the same alarm capacity as the G4, but with many new capabilities. including increased processor speed (for a faster web interface), advanced hardware (more memory for features), and enhanced security options (like SNMPv3, hardware acceleration, and RADIUS authentication).
The G4 firmware is now in maintenance-only mode, whereas the G5 is actively being developed. This opens the door for many new features down the road. Also, since the G5 is newer, it will also feature a longer product life.
The migration path to the G4 couldn't be easier. The pins for the alarm, relay, and power connections are the same - so projects designed for the G4 will work fine with the G5. See chart below for a quick comparison:
NetGuardian 832A G4-G5 comparison table.
Ultimately, the NetGuardian G5 RTU gives your network the latest and greatest monitoring technology. Watch the following video to learn more about new features found on the NetGuardian G5:
---
Get a Custom Application Diagram of Your Perfect-Fit Monitoring System
There is no other network on the planet that is exactly like yours. For that reason, you need to build a monitoring system that's the right fit for you.
"Buying more than you need" and "buying less than you need" are real risks. You also have to think about training, tech support, and upgrade availability.
Send me a quick online message about what you're trying to accomplish. I'll work with you to build a custom PDF application diagram that's a perfect fit for your network.
---
Make an Informed Decision
Your network isn't off-the-shelf.
Your monitoring system shouldn't be, either.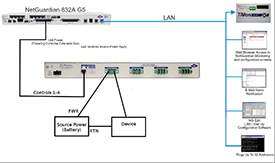 We'll walk you through this with a customized monitoring diagram.
Just tell us what you're trying to accomplish with remote monitoring.
Get a Custom Diagram