Average user rating:

4

out of 5 stars based on

11

reviews from the install base.

This next-gen orderwire product from DPS Telecom delivers voice communication at all your LAN sites - plus the monitoring you expect from a NetGuardian. Using VoIP (Voice over IP) technology, you call another orderwire station, a select group of stations, or use the Hoot 'n Holler "all call" feature to page someone when you're not sure where they are.

Plus, in the same 1 RU unit, you get an RTU with 16 discrete alarm inputs, 4 analog inputs, and 2 control relays. Each VoIP OrderWire unit installs easily - just plug into your LAN hub. In just 1 RU of space, you can get rid of all those costly telephone lines and long-distance fees.

The VoIP OrderWire and RTU Hybrid
Allows staff to communicate via LAN instead of leased telephone lines (Minimum Bandwidth Requirement: at least 128Kbps for peer to peer calls).
Hoot 'n Holler - Page all your staff at once within the orderwire system.
16 discretes, 4 analogs, 2 controls.
Supports important legacy orderwire features.
Dialing on the handset - No need to stand right in front of your racks.
Slashes long-distance charges.
Avoid rolling out expensive POTS lines to distant sites.
Quick and easy to install.
Deploy an all-DPS VoIP solution, or interface with other manufacturers.
Rack-mountable - Just 1 RU.
Integrated 7-port hub- Saves space, provides Ethernet connectivity for other equipment.
Multiple power options available, including -48VDC.
This VoIP OrderWire system is also available in an orderwire-only build option, without the built-in RTU functionality.
---
Client Reviews.
---
Screenshots

The VoIP Orderwire's web interface enables you to set your directory remotely, so you can add and remove sites from your list without having to travel to them.

Configure your alarms, analogs, and notifications from any computer with Internet access. Now you don't have to be onsite to make a quick change.

Monitor your alarms and analogs remotely, over the Internet or through your Intranet, so you always know what's going on at your site.
Applications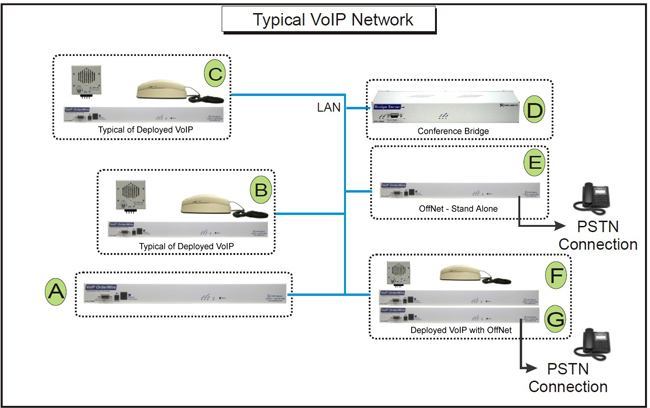 Station to Station: Dial directly from "A" to "B", or "C" to "A", etc.

Hoot n' Holler: All Call feature that allow "A" to call "B" "C" "F" speakers.

Conference Bridging "D" : Allows for multiple stations to join privately.
So stations "A", "C", "E", "F", "G" can set up a private conference (Up to 5 participants).

Off-Net: Any station will be able to dial an outside phone, via off-net stations "E" and "G", or outside phones can dial any station.
---
Get a Custom Application Diagram of Your Perfect-Fit Monitoring System
There is no other network on the planet that is exactly like yours. For that reason, you need to build a monitoring system that's the right fit for you.
"Buying more than you need" and "buying less than you need" are real risks. You also have to think about training, tech support, and upgrade availability.
Send me a quick online message about what you're trying to accomplish. I'll work with you to build a custom PDF application diagram that's a perfect fit for your network.
---
Make an Informed Decision
Your network isn't off-the-shelf.
Your monitoring system shouldn't be, either.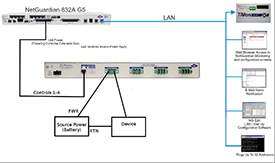 We'll walk you through this with a customized monitoring diagram.
Just tell us what you're trying to accomplish with remote monitoring.
Get a Custom Diagram