TL1 Commands - ACT-USER, SET-ATTR-ENV, RTRV-ALM-ENV...
TL1 protocol is an open, human-readable precursor to SNMP.
Being ASCII-based, it's not as efficient as a simple bit protocol. That's less important in the modern era, as all alarm management protocols use relatively little bandwidth by today's standards. What you gain for the small price of increased bandwidth is human-readability. Although you do need to know something about TL1 to know the messages, it's fairly easy with a bit of practice.
Despite its age, TL1 is found in a surprising number of networks. This is especially true if you have SONET optical network gear. You can find TL1 used for contact closure monitoring, event monitoring, SCADA, and remote site monitoring.
Sometimes, specific examples are the best way to start learning. These are very specific, but you can likely use similar TL1 implementations in your network:
If you'd like to learn even more, check out these Top 15 TL1 Resources.
TL1 Commands.
What good is a protocol if you don't know the commands you can use? TL1 commands are basic elements of TL1 alarm monitoring. The list below is a reference for some of the most common TL1 commands used in network reliability management.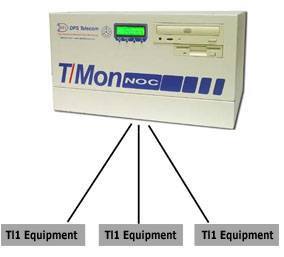 TL1 commands are the
core units of communication
between TL1 remotes
and a master
(a T/Mon NOC in this example)
ACT-USER
SET-ATTR-ENV
SET-ATTR-CONT
SET-ATTR
RTRV-ATTR-ENV
RTRV-ATTR-CONT
RTRV-ATTR
RTRV-ALM-ENV
RTRV-EXT-CONT
RTRV-ALM
RTRV-COND
OPR-EXT-CONT
RLS-EXT-CONT
RTRV-HDR
Because it's ASCII-based, TL1 can be effectively parsed with a text-analyzing master station like T/Mon. With the T/Mon ASCII Processor software module, this master station is about to break down TL1 into its component parts and incorporate it into any modern monitoring system (ex. SNMP, DNP3...).
Products Related to TL1 Commands:
T/Mon NOC
T/Mon SLIM
To see extra information related to TL1 Commands, review TL1 Alarm Monitoring .