Upgraded Building Access System Puts YOU in Control of Your Remote Sites
The DPS Building Access System (BAS) provides a centralized, integrated, and fully customizable method of controlling entry to your remote sites. Core BAS functionality includes:
Centralized management and control from the T/Mon alarm master
Up to 16 door points per NetGuardian
User- and site-specific access control
Access scheduling with support for user-defined exceptions
To further enhance the value of the Building Access System, several new upgrades have been made:
Proximity Reader Support
A proximity card reader is now available for the BAS. This eliminates the chance of forgotten keycodes and increases your level of access control. A keycode can be easily given to an unlimited number of other people, but a proximity card cannot. In the event that a card is lost or stolen, it can be deactivated in seconds and a new card may be issued in its place.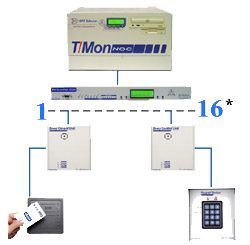 The upgraded Building Access
System (BAS) adds even
more functionality to an
already robust system.
Normal Exit Operation with Request-To-Exit
This new feature grants visibility of site exits without requiring any extra steps. An exit button or optional motion sensor activates when an occupant walks toward an exit. The person exiting may then open the door, exit the site, and close the door, which will automatically lock.
Should any door be opened before its corresponding motion sensor is triggered, a forced entry alarm will alert you to a possible intrusion.
"Extended Propped Door" Mode
When activated, Extended Propped Door Mode allows the specifed door to remain propped open without triggering a propped door alarm. This is useful during equipment installations that require frequent entries. When the door is closed, it will lock until you deactivate Extended Propped Door Mode.
"Stay Open" Mode
Stay Open Mode allows a door to remain unlocked. One typical application is for a front lobby. In the morning, your receptionist can scan a special card. The door will then remain unlocked for business until the same card is swiped again at the end of the day, locking the door for the night.
Faster Baud Rate
---
Find about more about the DPS Building Access System with proximity card reader support.
Contact a DPS Sales Engineer at 1-800-693-0351
To receive a price quote or ROI analysis...
Call 1-800-693-0351