Proxy Card Reader to Control Building Access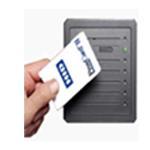 Eliminate the chance of forgottetn keys/codes by using a proxy card reader for building access.
A proximity card reader is available for use with the Building Access System. This eliminates the chance of a forgotten code and increases your level of access control. An employee can easily share a keycode with others, but not a proxy card. In the event that a card is lost or stolen, it can be deactivated in seconds and a new card can be issued in its place.
The Building Access System proxy reader allows users to gain access the building by swiping a proxy card.
Proxy Card Reader
Dimensions:
4.7"L x 3"W x 0.68"D
Mounting:
Wall mount
Operating Temperature:
-22 to 150 degrees F (-30 to 65 degrees C)
Operating Humidity:
0%-95% non-condensing
The Building Access Control System gives network alarm managers the ability to control and regulate door entry access. With a built in fault tolerance system this security management system can effectively control your sites. You will have complete visibility of all your sites simultaneously, as well as have some record of who was in your building. This provides valuable security to your remote sites and deters theft, break-ins and vandalism. These are unfortunate realities for remote sites and you cannot afford to leave your site vulnerable. Protect your site and your gear with a Building Access Control System.