Dominion had a problem. The Virginia-based energy giant's extensive internal communications network, was monitored by several different systems. Dominion recognized that this was a serious business issue. Today, Dominion has a solution. DPS Telecom designed a new monitoring system for Dominion that incorporated their existing remotes. Dominion now has a full-featured modern system that can grow with their future needs, and they achieved this without having to do a forklift replacement of their legacy remotes.

"The thing I liked was that DPS was going to make it fit our needs. There weren't going to try to make our stuff fit their stuff. They were going to make their stuff fit ours. I like that. I like that a lot," - Daniel Jackson Lead Telecommunications Technician of Dominion.




How a Real Life Tech Support Call Saved Hundreds of Thousands of Dollars
When Glenn Lippincott of Southern Company called DPS Telecom tech support, he wasn't planning on replacing his Badger remotes with a new, custom-engineered network monitoring solution. He thought he had a simple question about his T/Mon system. But as tech support chief Ron Stover walked him through his T/Mon configuration, Lippincott saw a menu item that caught his eye. So he asked about it, and the answer helped him improve his network monitoring and save his company hundreds of thousands of dollars.

"Glenn called because his T/MonXM system seemed to be missing a software module," recalled Ron. "I wanted to double-check if it had been installed, so I told Glenn to look through the Installable Options list. While we were going over what was on his system he noticed there was a software module called 'Badger Interrogator.' And Glenn immediately asked, 'Hey, what's that?'"
"If you do nothing else, you have to monitor temp & power with T/Mon."
See also:
3 Rivers Asciii Case Study
---
Get a Custom Application Diagram of Your Perfect-Fit Monitoring System
There is no other network on the planet that is exactly like yours. For that reason, you need to build a monitoring system that's the right fit for you.
"Buying more than you need" and "buying less than you need" are real risks. You also have to think about training, tech support, and upgrade availability.
Send me a quick online message about what you're trying to accomplish. I'll work with you to build a custom PDF application diagram that's a perfect fit for your network.
---
Make an Informed Decision
Your network isn't off-the-shelf.
Your monitoring system shouldn't be, either.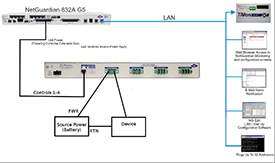 We'll walk you through this with a customized monitoring diagram.
Just tell us what you're trying to accomplish with remote monitoring.
Get a Custom Diagram