Easily monitor critical analog values by daisy chaining D-Wire sensors. D-wire sensors are available for monitoring temperature, humidity, and many more environmental levels. Some D-wire nodes can provide extra discrete/analog inputs. Daisy chains can exceed a dozen sensors.
Specifications

The
SCADA guardian 848
supports 24 analog inputs, 8 discrete contacts, and 4 control relays, and can be built to report over DNP3 or SNMP protocols
Full Specifications
Alarm Point Inputs:
8
Analog inputs:
24

8 Standard Analog Inputs
16 D-Wire inputs

Internally Defined Analogs:
1 Internal Temp Sensor
Analog Input Range:
-90 to 90 VDC (or 4 to 20mA)
Analog Thresholds:
4
Control Relays:
4
Serial Ports:
1 (choose from 202, RS-232, RS-485, or RJ-11)
Protocols:
DCPx, Telnet, HTTP, Email Included
Protocol Options (choose one):
Dimensions:
17" W x 6.6" D x 1.7" H
Weight:
2 lbs. 12 oz.
Mounting:
Wall or rack mountable
Power Input:
-48 VDC (-40 to -70VDC); contact DPS for other power options
Current draw:
50 mA @ -48VDC
Interfaces:
1 RJ45 10BaseT Ethernet port
1 USB front panel craft port
1 serial port (Choose from RS232, RS485, or 202)
Fuse
2 - 1/2 amp GMT
Operating Temperature:
32 -140 F (0 -60 C)
Operating Humidity:
0%-95% non-condensing
---
Get a Custom Application Diagram of Your Perfect-Fit Monitoring System
There is no other network on the planet that is exactly like yours. For that reason, you need to build a monitoring system that's the right fit for you.
"Buying more than you need" and "buying less than you need" are real risks. You also have to think about training, tech support, and upgrade availability.
Send me a quick online message about what you're trying to accomplish. I'll work with you to build a custom PDF application diagram that's a perfect fit for your network.
---
Make an Informed Decision
Your network isn't off-the-shelf.
Your monitoring system shouldn't be, either.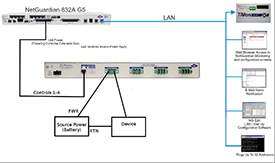 We'll walk you through this with a customized monitoring diagram.
Just tell us what you're trying to accomplish with remote monitoring.
Get a Custom Diagram