Remote visibility: The GLD provides
remote visibility of a system status
through detailed alarm messages.

The General LCD Display (GLD) allows the user to monitor an existing network from different locations by providing remote visibility of the system's status. This convenient method of monitoring gives the user the ability to monitor the network without being physically present at the system site. With detailed alarm indication messages, the GLD gives peace of mind to network managers who aren't able to constantly observe the system's status from the network's location.

The GLD can easily "daisy-chain" from unit to unit. This means that up to 3 GLDs can be connected to a single host, with a maximum range of 1,500 feet between the host and the last GLD unit (the 1,500 foot maximum applies to a single GLD as well). Figure 3 shows how the GLD fits into a typical network system. The GLD is also easy to install, with connectors for all ports and mounting screws for easy attachment to any flat vertical surface.

Along with the convenience of remote visual monitoring, the unit is equipped with a speaker for audible notification. The unit will sound when certain conditions occur, keeping the network manager informed of the system's status even when the unit is not being watched. Additionally, the Link LED on the face of the GLD indicates communication with the host. A red flash indicates receive activity while a green flash shows transmit activity.
Remotely display KDA and NOC alarms
Use up to 3 GLD's to send alarms to multiple locations
Great for Guard Stations, Equipment Rooms, and Office areas
Speaker for audible notification
Link LED indications
Shows alarms in easily understood English text
Easy installation and connection to existing networks
Full Specs

Fast installation:
The GLD is easy to install, with connectors for the communication port and the power input.
Full Specifications
Dimensions:
5 1/8"H x 5"W x 1 1/2"D.
Power Input:
-48 VDC.
Current Draw:
100mA.
Interface:
RS485.
Operating Temperature:
32° - 140° F (0° - 60° C).
Mounting:
Keyhole pattern on back for attachment to mounting screws (included).
Applications

GLD connection: Monitor an existing network from different locations. You can connect 1, 2, or 3 GLD units to the host. The maximum connection length is 1,500 feet. Please reference the picture above for more information.
Support

Fast installation: The GLD is easy to install. It has connectors for the communication port and the power input. It can easily be daisy chained from unit to unit with 3 units connected to a single host. There is also a speaker and led screen built in. It is a convenient way to monitor a network.
---
Get a Custom Application Diagram of Your Perfect-Fit Monitoring System
There is no other network on the planet that is exactly like yours. For that reason, you need to build a monitoring system that's the right fit for you.
"Buying more than you need" and "buying less than you need" are real risks. You also have to think about training, tech support, and upgrade availability.
Send me a quick online message about what you're trying to accomplish. I'll work with you to build a custom PDF application diagram that's a perfect fit for your network.
---
Make an Informed Decision
Your network isn't off-the-shelf.
Your monitoring system shouldn't be, either.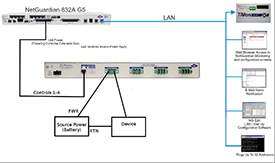 We'll walk you through this with a customized monitoring diagram.
Just tell us what you're trying to accomplish with remote monitoring.
Get a Custom Diagram