What Is An IP Camera?
Victims of theft, vandalism, intrusions, and various other property crimes know the cost of not maintaining complete security measures at their sites. The cost of repairing or replacing equipment is often trivial compared to the loss of revenue caused by an outage. A simple camera in the right place could make all the difference.
A camera such as the DPS SiteMON IP allows for improved security through advanced functionality.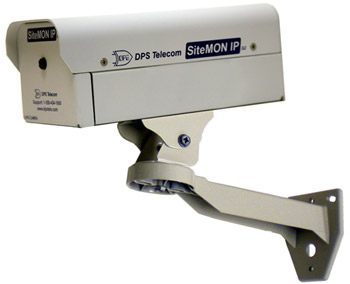 A camera such as this one pictured above may appear to be a normal camera at first, but upon further investigation it may surprise you. With the built in ability to determine when to notify the authorities when something is amiss, IP Cameras like these are growing in popularity. When something happens which can be referred to as a "trigger event", the camera starts collecting images to be archived automatically for later review, while the T/GFX graphical user interface (GUI) compatibility allows you to view live feed directly from each camera.
User definable parameters as to what constitutes a "trigger" allow for increased security monitoring efforts. With a wide-temperature chassis and optional housings, these cameras are able to work in nearly any application you could need. With the added options to link in sensors and external alarms, an IP Camera such as this will allow you to monitor a range of environmental or security conditions that could be as varied as the types of sites they serve. From temperature and moisture sensors, to motion and contact alarms, this camera allows for a multitude of new site monitoring options.
If you feel that your security measures could be enhanced with the addition of an IP Camera into your arsenal, then please feel free to send in a request for more information. We have provided a form at the bottom of the page for your convenience.