Converting -48 VDC Power to +12v AND +24v
If you have remote sites powered by -48 VDC battery plants, you know it's difficult to deploy devices that don't natively support that voltage. Remote sensors, for example, most commonly require +12 VDC or +24 VDC.
Don't rely on flimsy AC adaptors and commercial power for the equipment at your site. Use your existing -48 VDC power plant to power your +12 and +24V equipment.
With this 1 RU power supply box, you can convert -48 VDC power into 6 ports of +12 VDC and 6 ports of +24 VDC. There's a separate fuse for both inputs and one for every two outputs, ensuring that if a fuse blows, it won't interrupt the function of other equipment connected to the power supply.


12/24 Power Supply back panel with 6 +12V outputs and 6 +24V outputs.
This is great for sites where you need to power remote sensors, but you don't have an RTU like the NetGuardian 832A G5 that has built-in sensor power (optional).
But what good is power if it's not reliable? The 12/24 Power Supply has dual-redundant -48 VDC power inputs for extra reliability. Also, each pair of power outputs is separately fused, limiting the number of attached devices that lose power should you blow a fuse. All six output fuses are easily accessible from the front panel.
The unit's dual power inputs ensure you won't have to worry about a power failure knocking out your site's sensors. If a single -48 VDC power source fails, your equipment connected to the 12/24 Power Supply won't.


Front panel of the 12/24 Power Supply with Power Output Fuses
While you're delivering power to remote site sensors and other equipment, you may also decide that you'd like better network visibility as well. That's where the 12/24 Power Supply becomes versatile with a 16-point RTU option. If you select this model, your Power Supply will come equipped with 16 discrete alarm inputs, 2 analog inputs, and 2 control relays.
The maximum total current draw for the 12/24 Power Supply is 5 amps, with a maximum of 1 amp on any pair of outputs.
Even with 12 power outputs (6 at +12v, 6 at +24v) and an optional 16-point RTU, the 12/24 Power Supply requires just 1 RU of physical rack space.
Note:The 12/24 Power Supply is intended for use only with devices that isolate their power inputs from chassis ground or earth ground.
The Benefits of Using the 12/24 Power Supply
Use your analog sensors and other, lower power equipment on -48 VDC

Available in +12V only model or with both +12V and +24V outputs, to fit your needs

Works in common or isolated bonding networks

Optional fuse alarm relay can be used to set an alarm if a fuse blows, providing remote visibility on your power supply

Fuse alarm LEDs visibly alert you to power problems

Easily accessible fuses allow for quick setup and repair if you ever blow a fuse

Rack or wall mountable fits in-line with your equipment
Full Specifications
Dimensions: 1.7"H x 17.0"W x 7.1"D.
Weight: 3 lbs.
Mounting: 19" or 23" rack or wall mount.
Power Input: -48 VDC.
Current Draw: 5 Amps max.
Fuses: 5 Amp GMT for power input.
1 Amp for +12 or +24V power output.
Visual Interface: 8 Front Panel LEDs.
3 Back Panel LEDs.
Operating Temperature: 32 to 140 degrees F (0 to 60 degrees C).
Operating Humidity:0%-95% noncondensing.
RoHS 5 Approved 5/6.
What do you think about this device? Give me your feedback (or request pricing information) using the form below:
Similar Devices to Keep in Mind
AC Remote Power Switch
The AC Remote Power Switch - the first of its kind from DPS Telecom - allows you to switch on/off and reboot your equipment from miles away. If you've ever had to jump in your truck and drive hours to a site to reboot jammed equipment, you already know exactly why you need the Remote Power Controller.
With this power switch, you'll power on/off and reboot all your critical devices - right from your desk at the Central Office. A Remote Power Switch AC will typically have the standard plugs you see in homes and offices around the world.

DC Remote Power Switch
Using any PC on your network, you can operate controls, check the temperature at the site, and keeps tabs on power consumption - all without rolling a single truck. One feature that makes this PDU special is SNMP compatibility. You'll choose up to 8 notification devices - any combination of SNMP managers and email addresses. And with a Remote Power Switch DC, you're more likely to see an industrial connector that accepts bare wiring.
"Smart Fuse Panel " AB6


The new Remote Power Switch AB6 combines the functionality of a traditional fuse alarm distribution panel with a PDU (Power Distribution Unit) that can toggle power outputs to cycle your equipment. At just 1RU in size, it's also a physical-size match for most common fuse panels. It combines the functionality of a traditional fuse alarm distribution panel, a power distribution unit (that can control power outputs to cycle your equipment), and an optional integrated RTU that gives you additional environmental monitoring - all in a single box.
Battery System Monitor (BSM)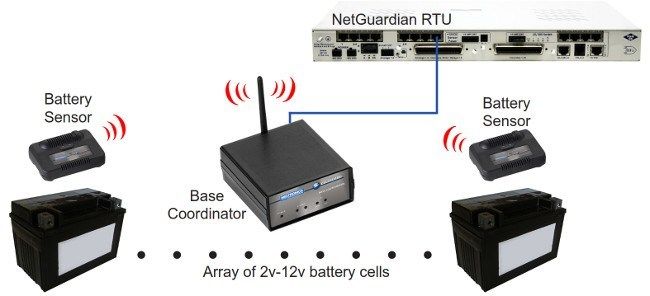 This system was designed for one reason: Monitor your battery cell voltage, temperature, capacitance, internal resistance, etc. for the best visibility over your power supplies. The BSM monitors multiple strings (if needed) and reports alarms via SNMP or sends email notifications.
T/Mon LNX Remote Alarm Monitoring System
The T/Mon LNX helps you reduce costs and increase visibility by monitoring a variety of equipment at multiple remote sites. This full capacity master station monitors, mediates, and forwards alarm data in over 25 standard and proprietary protocols, including existing legacy equipment.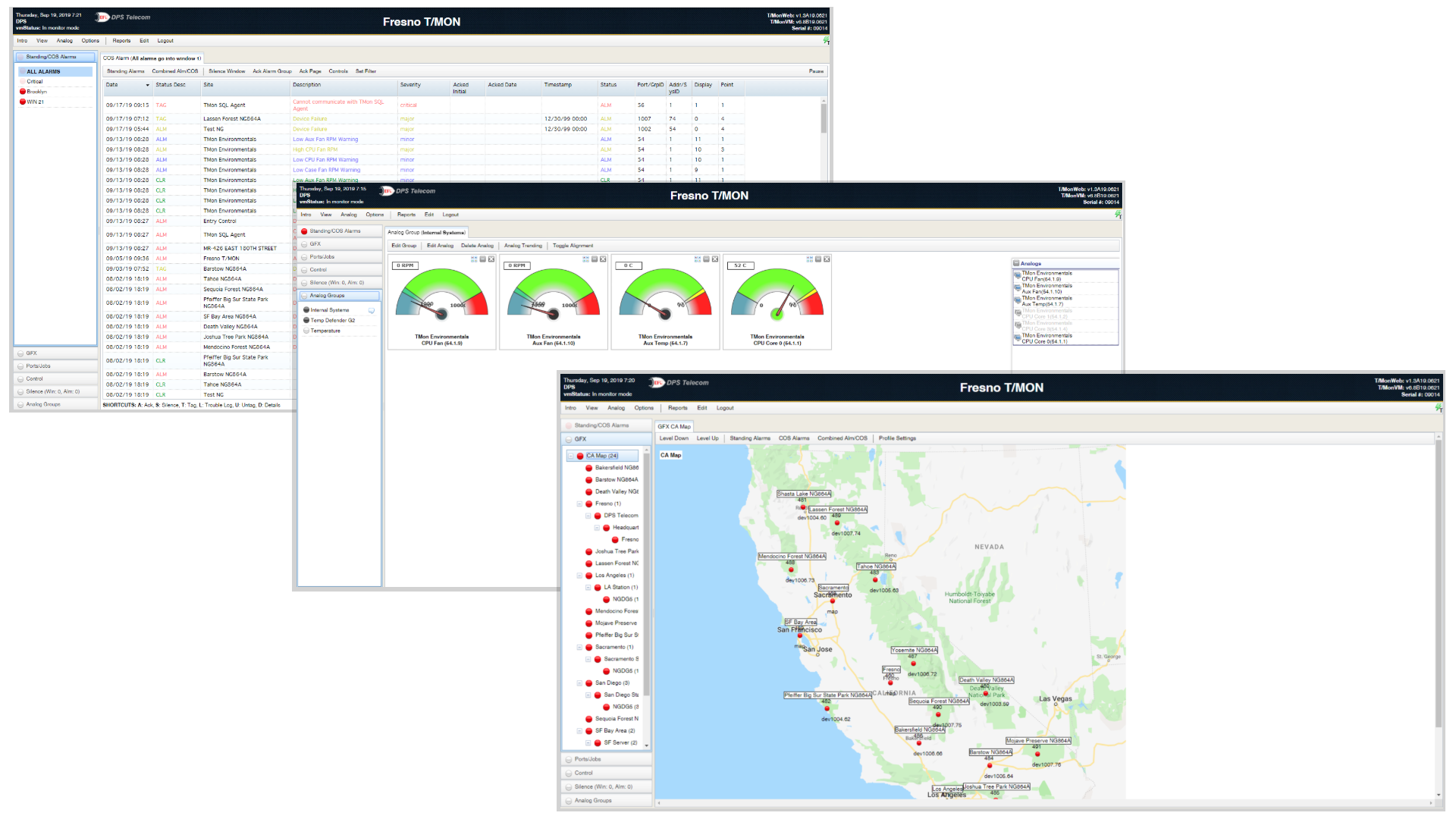 Key Benefits include:
The TMon is a multiprotocol, multifunction single-platform solution for all remote alarm monitoring uses.

Alarm monitoring data collection from a myriad of devices, manufacturers.

Supports over 25 protocols including ASCII, DCP, DCPF, DCPX, DNP3, E2A, SNMP, TABS, TBOS, and TL1.

To continue using functioning legacy gear in the era of modern protocols, you need a modern master that remains compatible with older protocols as well. T/Mon supports legacy devices and protocols from Badger, Cordell, Granger, Larse, NEC, Pulsecom, and Teltrac.

T/Mon GFX graphical user interface shows all alarms on layered geographic maps in real-time.

Mobile Web Interface allows viewing, administration and acknowledging alarms from desktop and cellular devices.

Mediation and forwarding remote alarm monitoring data to different protocols and master of masters.

Plain English alarm descriptions and specific instructions for correcting alarm conditions ensure prompt, effective response to active alarms.

Displays network status and alarm information to multiple users connected via LAN, dial-up, or serial connection.

Automatically sends detailed notifications and instructions to repair technicians by alphanumeric pager, cell phone, and e-mail.

Every network has different needs. You might have a 24/7 NOC center, but you might also be a smaller company with just a few technicians. T/Mon allows you to choose on-screen display, email alerts, and/or phone alerts when new alarms come in. You can also allow alarm type and severity to determine the notification type (more important alarms demand a more disruptive alert).

Manage your monitoring with detailed history, trending, and root cause analysis.

T/Mon offers you flexible capacity. You shouldn't pay for what you won't use. Whether you're a small rural telco or a massive multinational corporation, you can choose a T/Mon platform that's scaled for your needs. You can also choose software modules based on the protocols you use in your network.
To receive a price quote or ROI analysis call 1-800-693-0351
Get the Perfect Fit Solution for Monitoring Your Remote Site Equipment
Your network has unique monitoring needs that won't be met by a standardized device with inflexible and limited capabilities. Some of your sites may need heavy discrete alarm coverage. At other sites, you may need to monitor electrical and environmental inputs with live analog values. Or you may need to ping IP devices to verify they're operational and online.
There are also some other considerations when selecting monitoring devices - protocol support, transport interface, control relays, and capacity.
No matter what monitoring tasks you need to perform, DPS Telecom supplies the tools to do the job right. We offer a wide selection of RTUs, each designed to meet your specific monitoring needs with a perfect fit solution. It's easy to find an RTU that's a perfect match for your network.
DPS Telecom can help you determine your total monitoring needs. Based on our experience creating thousands of monitoring applications for real-world remote sites, our application engineers will develop a comprehensive solution for your network using our detailed, step-by-step site survey. If you want help determining your site needs, please give us a call at 1-800-693-0351.