Supports both Alpha and Numeric Pagers

The ASCII Processing Module (APM 48) will let you know when you have an important event occurring at your remote location. The APM decodes incoming ASCII data to extract alarm information, activates an equivalent discrete point and forwards a portion of the ASCII message to a pager.

The APM can also detect any event that can be translated into an electrical contact closure, such as a micro switch or relay. Door openings and equipment failures are typical events that it can report on your pager. In addition, you can contact the APM from any dial tone telephone and, by password identification, activate remote devices like door locks or security lights.

The APM has broad applications in many areas, including:

Telecommunications
The APM 48 is just right for remote cell sites and small offices, where its capacity is sufficient. In addition to pager reporting, the APM may forward selected alarm points to a central network management system. The APM dials the master and reports with TRIP protocol.

Fire and Safety
The APM can monitor smoke and sprinkler pressure alarms, door and window openings in industrial and commercial facilities, pin-pointing trouble spots for responding emergency teams, 24 hours a day.

Configuration Software
The APM has many programmable features, such as back-up pager numbers and written alarm point descriptions. Configuring these features is easy using T/APM software, provided with the unit at no extra charge. Programming is done locally through the serial port of a computer or by dialing the APM from any modem-equipped P.C. The software will also monitor the alarm states and operate control relays.

Derived Controls
In addition to being activated remotely, control relays may be activated internally by a combination of existing alarms, using a programmable equation (derived control). Each control point may have up to two equations defined.

ASCII Craft Port Access
The APM allows you to connect a remote computer through the dial port to an ASCII craft port on another piece of equipment, such as a PABX or channel bank.
8 ASCII-Activated Equivalent Alarm Points
8 Discrete Alarm Inputs, Four Control Outputs
Supports both Alpha and Numeric Pagers
Alpha Pages include Text Extracted from the Alarm Master
User Definable ASCII Alarm "Triggers"
Dialup Craft Access to ASCII Devices
Download Configuration from a PC
Automatically Operate Derived Control Points
Ideal for LAN's, PBX's, Process Controllers
AC or DC Powered
ASCII Processing Module (APM 48): Ordering Options

Supports both Alpha and Numeric Pagers.
Ordering Options.
ASCII Processing Module (APM48): -24 VDC/110.
19" or 23" Rack Mount Panel: Enables rack mounting of the APM and other alarm gathering modules.
DPS Telecom does custom product design to provide a perfect fit solution. If the ordering option does not fit your needs. Feel free to contact us at "1-800-693-0351". We would love to discuss designing a product that meets your specification.
ASCII Processing Module (APM 48): Applications
| | |
| --- | --- |
| APM Sends Alarm to Pagers. It can also send alarms to Full-Display Alarm Center Masters. | APM Issues Alarm to T/MonXM. It will then Provide path for Tech Support to Access Craft Port. |
Full Specifications
Dimensions:
5" W x 7" H x 1.5" D
Alarm Inputs:
8 / 1 ASCII Port
Control Outputs:
4 Form "C"
Max. Switching Current:
1A DC/AC
Max. Switching Voltage:
60 VDC/120 VAC
Mounting:
wall, frame or rack.
Power Input:
21ma @ -48 VDC
42ma @ -24 VDC


A 120 VAC wall mount transformer is supplied with the -24 VDC unit.

Modem:
"AT Type" 2400 Baud DTMF/Pulse dial internal modem with DTMF Receiver
ASCII Interface:
RS232,
2400 Baud,
DB9 Connector
Protocols:
TRIP,
Alpha Pager (TAP)
Numeric Pager
Operating Temperature:
32°-140° F (0°-60° C)
Operating Humidity:
0%-95% non-condensing
---
Get a Custom Application Diagram of Your Perfect-Fit Monitoring System
There is no other network on the planet that is exactly like yours. For that reason, you need to build a monitoring system that's the right fit for you.
"Buying more than you need" and "buying less than you need" are real risks. You also have to think about training, tech support, and upgrade availability.
Send me a quick online message about what you're trying to accomplish. I'll work with you to build a custom PDF application diagram that's a perfect fit for your network.
---
Make an Informed Decision
Your network isn't off-the-shelf.
Your monitoring system shouldn't be, either.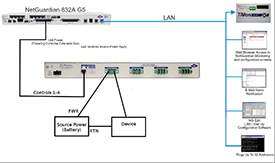 We'll walk you through this with a customized monitoring diagram.
Just tell us what you're trying to accomplish with remote monitoring.
Get a Custom Diagram