Report alarms directly to your master station over your cellular carrier's phone network.
Rather than reporting alarms over IP, simply configure your wireless RTU to send SMS alarm notifications to your SMS Receiver. The SMS Receiver then parses the SMS Notification and forwards an SNMP trap to your T/Mon or alarm master station over LAN.
Reporting alarms via SMS rather than IP allows you to bypass the traditional hassles of wireless IP-based alarm reporting. One SMS Receiver can report alarms for multiple RTUs as well, allowing you to cheaply and easily employ wireless RTUs or establish a backup alarm-reporting path over wireless devices.
---
For further information regarding SMS monitoring applications:
Wireless GSM/CDMA Knowledge Base

Ordering Options
Forward SMS notifications sent from wireless RTUs. They are sent as SNMP traps. The SNMP traps will be received by your T/Mon or SNMP Master Station. This is done with the SMS Receiver.
Selectable Configuration Options
CDMA or GSM Wireless Modem
---
Get a Custom Application Diagram of Your Perfect-Fit Monitoring System
There is no other network on the planet that is exactly like yours. For that reason, you need to build a monitoring system that's the right fit for you.
"Buying more than you need" and "buying less than you need" are real risks. You also have to think about training, tech support, and upgrade availability.
Send me a quick online message about what you're trying to accomplish. I'll work with you to build a custom PDF application diagram that's a perfect fit for your network.
---
Make an Informed Decision
Your network isn't off-the-shelf.
Your monitoring system shouldn't be, either.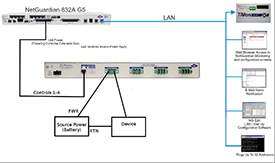 We'll walk you through this with a customized monitoring diagram.
Just tell us what you're trying to accomplish with remote monitoring.
Get a Custom Diagram