The NetGuardian Voice 16 G2's web interface allows you to see the status of all of your alarms, from any web browser.


Configure notifications for specific alarms, so the right people get the right information at the right time.

Monitor your alarms and operate controls over the Internet or through your Intranet. You'll always be in control of your site.
Video: Get Voice Alerts To Your Phone With The NetGuardian Voice 16 G2
The NetGuardian Voice 16 will send voice alerts to your phone when important alarms occur. This isn't suitable for every alarm, of course. It's ideal for critical alarms that happen after hours. You need a universal way to notify on-call technicians at home. Voice is a simple, clear way to do it.
Have questions after watching the video? Here are some possible answers to your questions.
To receive a price quote or ROI analysis...
Call 1-800-693-0351
---
Get a Custom Application Diagram of Your Perfect-Fit Monitoring System
There is no other network on the planet that is exactly like yours. For that reason, you need to build a monitoring system that's the right fit for you.
"Buying more than you need" and "buying less than you need" are real risks. You also have to think about training, tech support, and upgrade availability.
Send me a quick online message about what you're trying to accomplish. I'll work with you to build a custom PDF application diagram that's a perfect fit for your network.
---
Make an Informed Decision
Your network isn't off-the-shelf.
Your monitoring system shouldn't be, either.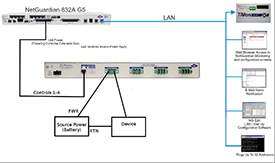 We'll walk you through this with a customized monitoring diagram.
Just tell us what you're trying to accomplish with remote monitoring.
Get a Custom Diagram