of a network management architecture.
When an agent sends a trap message, it can include OID and a data payload (called "variable bindings") to clarify the event. Quality agents like DPS NetGuardian RTUs send a comprehensive set of plain-English variable bindings within each trap to maintain traditional telemetry event visibility. Well-designed SNMP managers can use the bindings to correlate and manage the events. Managers will also generally display the readable labels to facilitate user understanding and decision making.
Is SNMP byte-oriented or packet-oriented? What's the difference?
This article in our series on the Simple Network Management Protocol (SNMP) examines the communication between managers and agents. Basic serial telemetry protocols, like TBOS, are byte-oriented (a single byte is exchanged to communicate). Expanded serial telemetry protocols, like TABS, are packet-oriented with packets of bytes exchanged to communicate. The packets contain header, data and checksum bytes. This offers vastly more detail without requiring a companion database, but bandwidth requirements are obviously many times higher for packet-oriented protocols. As time marches on, however, bandwidth availability continues to increase rapidly.
SNMP is packet-oriented with the following SNMP v1 packets (Protocol Data Units or PDUs) used to communicate:
The manager sends a Get or GetNext to read a variable or variables and the agent's response contains the requested information if managed. The manager sends a Set to change a variable or variables and the agent's response confirms the change if allowed. The agent sends a Trap when a specific event occurs.
The image below shows the packet formats. Each variable binding contains an identifier, a type and a value (if a Set or response). The agent checks each identifier against its MIB to determine whether the object is managed and changeable (if processing a Set). The manager uses its MIB to display the readable name of the variable and sometimes interpret its value.

Do you have any specific SNMP examples I can review?
Absolutely. Here are two:
As a remote-monitoring-equipment manufacturer, SNMP isn't the only protocol we work with.

We have to support lots of legacy and proprietary protocols if that's what our clients need, but it is certainly the most common.

In our environment, SNMP RTUs are a great example of SNMP agents.

These are remote boxes that sit out at remote, unmanned locations and monitor the equipment and conditions there. One NetGuardian 832A, for example, might be monitoring temperature sensors, humidity sensors, doors, motion, water leakage, fuel levels, and power voltages using external sensors. It could also be tracking contact-closure alarms from various equipment like generators, rectifiers, switches, SONET/optical ring gear, UPS batteries, and other important equipment.

Any deviation from ideal conditions would, in this example, trigger an SNMP trap from the NetGuardian 832A. The beauty of an open protocol like SNMP is that the trap could be directed at any standard SNMP manager from any manufacturer (you could also use the DPS Telecom T/Mon manager, of course). Your SNMP manager could direct a response from the NetGuardian, such as turning on a backup generator to handle a commercial power failure.

Another great example is a power distribution unit (PDU)

These are more focused on remote control than remote monitoring. They're basically industrial grade power strips with the ability to toggle power on/off to individual devices. This provides a last-resort remote-reboot capability if you have a server get stuck or something similar go wrong.

An SNMP-capable PDU will toggle outputs in response to an SNMP set command from your SNMP manager. This type of device brings remote power control under your SNMP monitoring umbrella. That's significant, because it's silly to have one system for remote monitoring and a completely separate system for remote control. A large SNMP infrastructure in your network allows you to see what's happening AND react from your SNMP management interface.
---
Get a Custom Application Diagram of Your Perfect-Fit Monitoring System
There is no other network on the planet that is exactly like yours. For that reason, you need to build a monitoring system that's the right fit for you.
"Buying more than you need" and "buying less than you need" are real risks. You also have to think about training, tech support, and upgrade availability.
Send me a quick online message about what you're trying to accomplish. I'll work with you to build a custom PDF application diagram that's a perfect fit for your network.
---
Make an Informed Decision
Your network isn't off-the-shelf.
Your monitoring system shouldn't be, either.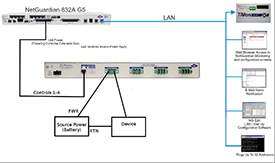 We'll walk you through this with a customized monitoring diagram.
Just tell us what you're trying to accomplish with remote monitoring.
Get a Custom Diagram