Manage Your Alarm System With a T/Mon LNX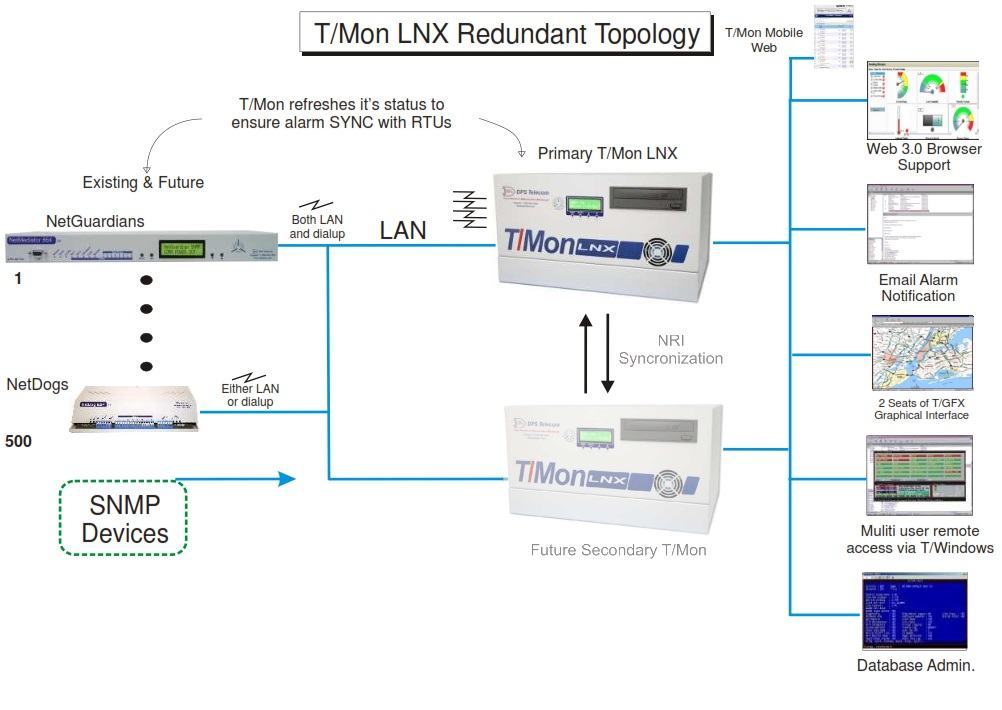 We have prepared this proposal for the T/Mon LNX Alarm Management System.
The T/Mon LNX is a rack mounted, -48VDC dual feed, Quad Core Xeon computer that will be responsible for: Collecting, filtering, categorizing & presenting alarms, maintaining history, alphanumeric paging and e-mail notification. The T/Mon LNX will use the slide rack which can be placed into any 19" or 23" rack. This solution provides the highest level of local alarm visibility. Remote Alarm viewing will take several forms including Web Browser, Graphical (see below for more details), and T/Windows. T/Windows can also be used as a direct connection. This interface is incredibly easy to use and will provide network visibility to your staff provided they are given the access rights by your system administrator. This software can be loaded on multiple PC's and is ideal for technicians and other members of your staff to view alarms from remote locations over LAN, direct connect or dial up.
The LNX supports RAID 1 Hard Disk Redundancy. In the event you lose your primary hard drive, the T/Mon LNX will automatically fall back to the secondary hard drive. In addition, the T/Mon LNX supports a modular interface design. This design allows us to semi-customize each T/Mon LNX for deployments in diverse network architectures. With the T/Mon LNX, you can use Pager alerts and escalation. T/Mon LNX can automatically send detailed alarm notifications via pager, cell phone, PDA or e-mail, so the right information is put directly in your hands, not locked up in a LNX console. Escalation notifications to supervisors promote alarm acknowledgement and problem resolution.
T/Mon LNX filters out nuisance alarms, self-correcting alarms, and oscillating conditions, ensuring staff response to serious network threats. Correlate alarms for root cause analysis. Finding the underlying cause between apparently unconnected alarms can take hours of patient detective work. T/Mon LNX simplifies root cause analysis by correlating alarms with user-defined derived alarm formulas. Derived alarms can include date/time variables and input from dozens of alarms, so you can capture any repeatable combination of events in a single alarm.
The T/Mon LNX features SIX NIC's (10/100/1000) that may be used for any of the T/Mon LAN based functions. Multiple NIC's allow T/Mon LNX to maintain your network isolation & topologies while allowing T/Mon to collect alarms from various LAN's. It also provides a natural barrier to isolate system users from the equipment LAN.
Two seats of the T/GFX Software Module will be packaged along with the T/Mon. It is a graphic-based application that is great for T/Mon applications where intuitive graphical feedback is required. T/GFX provides a graphic display of alarm network status using maps, floor plans and other graphic representations to give operators a system visibility. T/GFX can work using a centralized database across the LAN where multiple users can access the same information. Multiple T/GFX displays can be supported by T/Mon software.
T/GFX will run on a windows based PC connected to the T/Mon via LAN and consists of a series of maps that allow users to have a birds eye view of their network. Users can then drill down on specific icons representing layers of your network. Layers could include a national, regional, local view and even a rack presentation of your equipment. It's very intuitive for the users and makes for a very impressive war room type display. Mapping software is included that reflect your local area but you may also use any graphic that can be saved as a .bmp extension. To view a demo of this, please log onto our website at http://www.dpstele.com/products/em/tGFX/.
The SNMP Trap Processor Software Module will give your T/Mon Master Station the ability to receive SNMP traps from network elements and convert them to standardized T/Mon alarms so you will be able to view them. This will result in a very powerful SNMP manager because not only will your T/Mon be able to accept DCPx from DPS remotes, you will be able to monitor your other SNMP devices as well. This software module will support V1, V2 as well as V3 devices and is very simple to use. Simply compile the MIB onto the T/Mon Master Station, select the rules for how you want to see those alarms and you've integrated those into the system.