Morgana Siggins
Monitoring Specialist
How many of your best customers would be negatively affected if your vital equipment or remote sites were stolen or vandalized? Would you have an idea how much revenue you might end up losing?
While you may have been hesitant to invest in an Access Control Security System, or are unable to justify the high costs of purchasing sophisticated security equipment, you still need to enhance the security of your sites. With incidents of industrial vandalism and theft happening more often than ever, you need to protect your company's mission-critical assets.
If this concerns you, a high-quality access control system will enhance the security of your sites. Let's take a look at the characteristics of this system, and the top five benefits you'd receive after implementation.
Keyless entry systems solve the problems of both security cameras and traditional lock and keys. The BAS, for instance, consists of an Entry Control Unit device, keypads, and card readers.
What Does an Access Control System Do?
An access control system, or building access system, protects your profits by keeping revenue-generating equipment secure.
It will also reduce the cost of managing geo-diverse remote sites, allowing you to view and manage access remotely from a central terminal.
Key Elements of a Well Designed Access Control System
A building access system is composed of four basic elements: the master, the site controller, the entry control unit, and the user input device. These four components are critical to creating a secure, properly designed building access system.
A master station interfaces with your site controllers and provides centralized management for your entire system.
The site controller controls local access at your remote sites. The unit maintains a list of staff who are authorized to access the facility. This device knows which personnel can access determined doors during which days and hours. It should record all valid entries, attempts, and the time of each action. The best ones should hold up to 1,300 user profiles. A good site controller maintains a history log that records a running tally of each individual site access. It should also have the capability to operate autonomously (independent of the alarm master).
The Entry Control Unit is mounted on the interior of the site directly behind the proxy card reader. An access code that is read by the proxy card reader is accepted by the entry control unit and sent onto the site controller or the master station for validation. If the access code is valid, the entry control unit will release the door strike.
User Input Device (Keypad or Proxy Reader)
This device is mounted to a wall or the door itself. The proxy card reader sends codes from keypads, or keycards, to the entry control unit for verification.
Now that you know the basic points of the best building access control system, let's dive into the main benefits that these systems can bring you.
1. Maintain Security of your Sites
Whether or not you have experienced theft or vandalism in your network, your unmanned sites are vulnerable. While you might expect this type of criminal activity from strangers, an alarming amount of damage can also be done by employees, ex-employees, and even trusted contractors.
With industrial crimes on the rise, you need more than basic security features. A system involving simple locks and keys are not a viable security solution, and will not adequately protect your network uptime. Therefore, to effectively manage your sites you need to restrict access to authorized personnel only.
This is the biggest benefit of a building access system: to properly secure your remote sites. Traditional keys cannot give you user-level access control that building access systems can give you, and they certainly cannot provide you with a log of every entry and exit.
2. Avoid Re-keying When a Key is Missing
As long as you continue to use traditional locks and keys to secure your sites, you can never know how many unauthorized copies have been made - or who is holding them. How many times have you copied a "Do Not Duplicate" key at a hardware store? If you lose a traditional key, the only way to maintain security is to change all the locks that it can access. Imagine the cost of losing an entire ring of keys, necessitating the replacement of multiple locks at your sites. When a key is lost, you have to assume the worst case scenario.
While duplicating physical keys can be done very easily, copying electronic keys requires a much higher degree of skill.
This makes your access system much more secure than it could ever be with physical keys.
An electronic user database means that you never have to change locks at your sites. So, if a keycard is ever lost, it can be immediately removed from the database and a new one can be issued. If an employee leaves your company, his or her access rights can be deleted within seconds. This greatly lowers your overall exposure to risk.
With electronic access, your single key or access code grants you access to every door you need to go through, so there's no chance of forgetting the key for a particular door. If you get to a site where you need access and you are not recognized by the system, a network operator can add you to the list instantly.
3. Maintain Electronic Logs for Review After an Incident
Keys always work, even when you don't want them to. There are probably few legitimate reasons why a site needs to be accessed on Sundays at 3am, but you can't restrict access times with traditional keys.
With an access control system, every entry to your sites is logged for later review. This can be an invaluable tool when investigating vandalism or theft, or for tracking response times or technical activities internally.
4. "Buzz" People in if They Forget a Key
Every time a technician forgets to take a key on a truck-roll, your travel time and expense doubles. That tech has to drive back to the office, pick up a key, then drive all the way back out to the site. The same situation can happen if that tech simply picks up the wrong key, or large organizations will have at the very least dozens of similar looking keys.
If you already have tech in the field near the site of an alarm, it's almost always best to dispatch them from their current location. If they don't have the right key on hand, however, they'll have to drive all the way back to the company pick up the key they need.
This all means that physical locks don't support remote "buzz in." If an unexpected event comes up and you want to allow access to a site immediately, you can't if you use traditional physical locks.
With a building access system, if a tech or outside contractor needs access to a locked site, you can open that door remotely from your central terminal.
This gives you an extra large degree of flexibility while making sure that you know about entries into your sites.
5. Seamlessly Integrate with Your Current Monitoring System
If you are planning to deploy a new building access system, there's one very important factor you should not ignore. If you accomplish alarm monitoring and access control with a single system, you are doing yourself and your company a big favor. Integration with your network alarm monitoring system will provide you with many advantages. Some of them are:
Achieving price economies by purchasing one system instead of two.
Receiving building access alarms on the same screen as all of your other alarms.
Eliminating the need for another NOC terminal.
Leveraging existing monitoring investments while avoiding installation of expensive new transports.
Single point of contact with only one vendor.
A good building access system should integrate seamlessly into your current alarm monitoring system. You already have capable site controllers in your remotes, and you already have a central terminal - your alarm master. Integration with alarm monitoring makes building access as easy as installing user input devices (keypads or card readers) at your entry points. The rest of the access system components, and its transport network, is already present in your deployed alarm monitoring system.
By integrating your building access system into your current alarm monitoring system, you are also establishing access control that can be managed from a central location, greatly reducing costly windshield time - the time you spend driving to remote sites because you have inadequate visibility.
Therefore, your best option is to look for vendors that do offer these advanced building security options that seamlessly integrate with your monitoring system, so you don't have the expense of purchasing a separate system.
Get Peace of Mind with a High-Quality Access Control Solution
Would you know if someone accessed your site at 3am on a Sunday morning?
If you distribute physical keys to your sites, you can never be sure when they would be used. This puts your mission-critical infrastructure at a high level of risk. An advanced building access system gives you the power to monitor every entry at your sites - as well as the peace of mind provided by after-hours notifications sent to your cell phone or pager.
With the T/Mon Web Interface you can check the status of your system anytime, anywhere - directly from your smartphone.
So, what would you look for on your access control solution?
Your building access system should be manageable from a central terminal. This will allow you to watch over and control your access points from a single monitoring platform, which can be accessed remotely. This increases overall system effectiveness and reduces staffing requirements.
Proximity card readers offer a variety of advantages over traditional keypads. Keycards cannot be shared with other individuals, unlike codes, and keycards are more durable in extreme climates. A good access system should support a selection of user input devices, including proximity readers and keypads.
Logging and Tracking so You Can Monitor Who's Accessing Your Sites After Hours
Your access system should log every entry to your sites. Knowing exactly who accessed your sites, and when they did so, is very important when a vandalism or theft happens - or simply to proactively locate your employees.
Compatibility with site power
Your building access control system should operate on site power, either battery or commercial. By using protected power, your system will still work during a commercial power failure.
Sufficient size for your network
If you are going to incorporate an access system into a large network, it should offer support for at least 1,000 user codes or keycards at each site, with support for at least 50,000 total codes or cards throughout the company.
You should be able to define a weekly schedule for site access. This ensures that your sites can only be accessed when they should be.
Limiting Access for Outside Personnel with Access Rights that Expire Automatically
Good building access systems allow you to create keycode or keycards for outside contractors the same way you would for your own employees. Contractor codes, however, can be programmed to commence and expire at designated times. If an outside vendor will be working on your equipment for three days, they can be given site access during those three days - and only during regular business hours. If the contractor needs additional access, you can grant it at any time.
Multiple transport options
Your building access system should support multiple paths for upstream communication. LAN and serial, therefore, should be available.
Look for a good BAS that has a redundant user database. Individual sites must be able to operate independently of the master if communication is lost. The goal is to decide access rights locally, then report to the master. By alleviating the reliance on the master, your access will be quick, even when a communication failure happens.
Look for an access system that gives you the power to control each door at your facility independently. You might want to give many users access through the front door, but restrict access to a central area to just a couple of key staff. In order to do this, you must be able to control exactly which doors can be entered by which personnel.
Picture yourself having to drive to your remote site every time you want to change your access code. From a single terminal with a single operator, you want to eliminate such manual labor and be able to manage all of your staff's access requirements. An access system that can be administered remotely adds to your bottom line by minimizing expensive windshield time.
A complete network alarm management system requires more than just environmental and equipment monitoring. Security and personnel issues are also part of the complete picture. Video surveillance is especially useful when used in addition to an access control system. This allows you yo visually watch over your site.
You also need to be able to view detailed information about your remote site. Look for a building access control system that has a built-in web browser interface. With a web browser interface, multiple users can view the conditions at a single site.
The DPS Building Access System contains all these advanced features that are critical to properly controlling access to your site.
The BAS can be used with other DPS gear, or in Stand-alone mode.
The T/Mon LNX is a powerful master system that can provide global centralized management for your system. The NetGuardian is a dominant site manager that can maintain a strong local network. Finally, the Proxy Card Reader is the most effective user access device on the market. Integrate your BAS into a DPS monitoring platform, and benefit from the ability to create a security safety net with our fault-tolerant systems.
The T/Mon BAS (Building Access System) gives you centralized, electronic control over your doors. T/Mon BAS is a variant of the T/Mon Remote Alarm Monitoring System. While a standard T/Mon manages both door access and alarms from network equipment, T/Mon BAS is focused purely on building access control.
Get a Free Building Access Consultation from Experts
Determining your site's security needs can be challenging. If you are under pressure with a multitude of responsibilities, then it would be far too time-consuming to properly evaluate your existing access control system and remote sites.
Let a free building access consultant help you. We can survey your remote sites step-by-step, making sure you don't miss any opportunities to tighten your security - and give you both control and peace of mind.
One of our expert consultants will help you determine which budget-friendly building access system can best integrate with your existing security setup. Our goal is to help you maximize ROI while minimizing expenses all with a catered solution.
Lastly, since DPS is a leader in both access control as well as alarm monitoring, you'll learn how integration into a single system can cut costs and protect your most valuable investments.
Don't leave your remote sites at risk any longer, call me today and let's discuss how our Building Access System can be the best-fit solution for you.
---
Get a Custom Application Diagram of Your Perfect-Fit Monitoring System
There is no other network on the planet that is exactly like yours. For that reason, you need to build a monitoring system that's the right fit for you.
"Buying more than you need" and "buying less than you need" are real risks. You also have to think about training, tech support, and upgrade availability.
Send me a quick online message about what you're trying to accomplish. I'll work with you to build custom PDF application diagram that a perfect fit for your network.
---
Don't make a bad decision

Your network isn't off-the-shelf.
Your monitoring system shouldn't be, either.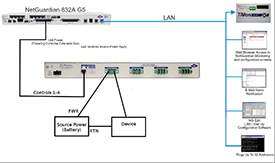 We'll walk you through this with a customized monitoring diagram.
Just tell us what you're trying to accomplish with remote monitoring.
Get Your Custom Diagram Now