Morgana Siggins
Monitoring Specialist
The lifespan of an RTU is the economic life of the unit, or how long it will continue in its original service application. Most people would agree that a "good" system should last a certain amount of time. Each monitoring system or device has a generally established and expected lifespan, and anything that falls short of its life expectancy is usually considered as "poor quality."
Since remote monitoring systems can be a very pricey investment - big networks can even require thousands of dollars, and maybe a couple years to complete - many companies might choose to hold on to an RTU for longer than necessary.
However, what should you do when your RTUs run the course of their life, or no longer serve the specific needs they were originally intended to serve? By determining your RTU's lifespan, and what to do with your gear as it nears the end of its life, you can more adequately adjust future expenses.
How Long Is Long Enough?
The end of an RTU's life may occur for many reasons, including: obsolescence, poor reliability, expensive maintenance costs, and failure.
The average lifespan of an RTU unit falls between five to ten years. That being said, it's not hard to find original DPS equipment installed in the 90s, or even the late 80s that are still in operation.
A Different Kind of Frustration in Terms of Lifespan
Most vendors get frustrated when their clients say that their equipment didn't last as long as they expected it to. Our sales team, however, experiences a different kind of frustration in terms of lifespan. When we get in touch with our clients, they simply say that their existing DPS gear still works - so they're not interested in replacing them just yet.
That's understandable, of course, because a major motivation for keeping old systems up is cost. Replacing equipment that still runs doesn't happen all that often. It was probably a bit hard to justify the monitoring costs to your management in the first place, so changing from an old system to a new one might require you to have a compelling reason.
In most of the industries that use telecom networks, financial decision-makers are known to be unwilling to budget for new alarm monitoring gear. Telemetry can be mistakenly seen as a cost center instead of a key safeguard to network reliability.
Why Does DPS Gear Last so Long?
We know how vital your monitoring equipment is to the well-being of your entire network. That's why we subject all of our equipment to rigorous testing. This ensures that your network is in the best hands possible. By testing all of the components in each unit under extreme conditions, we can be sure that your RTU will stand up to even the most extreme conditions.
We conduct several severe tests on every model manufactured, and some on every single unit. These tests include:
Functional Testing

This is the most obvious, and also one of the most important tests. Functional testing makes sure that your RTU does what it's supposed to do in the way that it's supposed to do it. What good is monitoring equipment if it doesn't function properly? These tests include making sure that analogs, alarms, controls, and other functionalities of the RTU are working properly.

EMI Testing

The Electromagnetic Interference test, or simply EMI test, looks for interference emitted by the unit and from external sources. If a unit is susceptible to EMI, it may cause a disruption in data transfer, or in some cases, even the complete degradation of information. Using this test, we can tell how much interference the unit can withstand while still functioning properly.
EMI Testing is one of the many steps taken to ensure our equipment complies with NEBS.
Temperature Cycle Testing

The temperature test is more than just a test to see how cold you can get the unit while maintaining function. Each unit is cycled eight times between its most extreme low and high end of its suggested temperature range, and held there for 30 minutes. The goal is to not only show that it can operate in those temperatures, but also that it can withstand the constant change. Even though your equipment may not experience this sudden switching of temperature, it's still an important test to ensure the durability of the equipment.

Power Cycle Testing

This is a fairly simple test. Each unit is switched on and off for about 12 hours to ensure that it maintains functionality. Power cycling tests make sure that the unit won't stop working after only a few boot ups. It also simulates power surges and outages such as in the case of a storm.
You can't have gear that blows up if your power fails and then comes back. We power cycle units hundreds of times to protect you from this especially frustrating kind of failure.
Temperature-Power Cycle Testing

Like the name suggests, this test combines components of the previous two tests, making them into one. It's designed to put extreme stress on the units to ensure maximum durability. To conduct this test, we subject the RTU to either extreme heat or extreme cold and we hold it there for at least 12 hours. The unit is continuously power-cycled during this period.
These tests are great indicators of equipment quality, but they still can't match the conditions and stress your equipment might face at your remote site. Proven design is the ultimate test and the greatest proof of quality. While we offer custom units, the main components have been time-tested and proven to last.
DPS' equipment has been field tested and widely distributed. With our gear, you can be sure that your equipment is built with a proven design that will stand the test of time.
Why Should You Replace Your Legacy RTU?
How long have you kept your network alarm monitoring gear in the field?
Companies that use telecom networks, mainly utilities, are holding on to their old system up to the very last minute of their working lives. Maintaining these older systems is becoming a huge problem.
If you have to work with an older monitoring system, you're likely all too aware of the doubts of upper management to finance large-scale swap outs of network gear. However, what you probably didn't notice is how common the problem has become.
Maintaining an older alarm monitoring system is hard, and it just gets harder the older the system gets. Physical faults accumulate, equipment starts to break down, and repairing the monitoring system becomes a drain on department resources.
As your older equipment becomes less reliable, network visibility eventually declines, and you have an increased chance of not detecting and correcting serious networks threats.
Eventually, your legacy system will break down completely, and you'll have to come up with a replacement option as soon as possible.
It's extremely difficult to meet the challenges of managing a telecom network in the 21st century with a monitoring system that was designed in the 1980s. Slow serial connections, proprietary protocols, and obsolete alarm management software have a hard time giving you the best protection for your network reliability.
If you have DPS gear - while your network alarm monitoring system has stayed the same, the environment that you work in has changed completely over the years you've been in operation. Compared to the average network manager of the 1980s and early 1990s, you've got higher performance standards to meet.
That's a tough job. To be able to meet this challenge, you need our advanced telemetry features, such as after-hours monitoring, email and pager alerts, automatic notification and correction, nuisance alarm filtering and qualification. You're not going to get what you need from your legacy system.
The bottom line is that keeping your network monitoring system forever is not a viable option, for many reasons:
Your legacy monitoring system will break down at any point.

It's just not realistic to keep your network monitoring frozen in 1980s tech.

Your legacy system is probably incompatible with modern network management systems.
Is it Time to Consider an Upgrade of Your Remote Monitoring System?
How old is your existing remote monitoring and control equipment? Best practices for upgrading include these two simple rules:
If your monitoring system is more than 6 years old, you should at least be planning your upgrade strategies.

If your monitoring system is over 9 years old, you need to contact an expert in remote monitoring immediately to develop your upgrade plan.
Also, it's critical to know at least some of the signs that your aging RTUs are becoming a threat to your network up-time:
They're clunky to operate

Old interfaces just don't compare well to contemporary systems. Even veterans have trouble using legacy RTUs, and it's virtually impossible to train new staff when someone retires or otherwise leaves the job.

Your manufacturer is not supportive

Not all vendors are like DPS - they might not offer support for your discontinued RTU, they might charge ridiculous fees, they might even be out of the business completely. Whatever the case, legacy RTUs generally aren't supported like modern gear.

You can't get spare parts

Again, not all vendors are like DPS that can produce any piece of equipment in-house. Most of the companies outsource their components or products from overseas, which might leave you swapping parts from failed units to keep the rest running. What happens when you run out?
Modern RTUs would solve all of these problems - big surprise, right? But you can't simply throw out your legacy equipment and purchase brand-new remotes for all your sites.
A System Forklift Swap Out Makes no Sense
Despite all the disadvantages of an older alarm monitoring system, many network managers think that they can't possibly afford to replace their legacy equipment - not without a budget-crushing forklift swap out.
Throwing away your legacy remotes is throwing away money. SNMP-legacy integration gives you a budget-saving alternative.
There's no point in doing this, though, either financially or technically speaking:
A forklift swap out wastes the original investment in the legacy system.

As soon as you replace the master, you must scrap all the remote telemetry units, even if they could remain functional for years to come.

The capital expenditure of a forklift swap out is more than most companies can absorb in a single budget cycle.

Even if the equipment can be purchased, most companies don't have the installation manpower to immediately deploy them in the field.

The equipment must be stored until it can be installed, generating no return on investment.

A completely new network monitoring system must be installed in phases.

This creates a long changeover period during which there's little or no visibility of the network at certain sites.
Almost no one has the budget or engineering resources for that, and it's never good to scrap RTUs that are still perfectly functional.
Fortunately, there's a way to transition to contemporary RTUs without throwing away your existing investments.
What Would a Solution to the Legacy Problem Look Like?
It might seem like if you have a legacy monitoring system, you're stuck between several unpleasant alternatives. You can't afford a forklift swap out, you can't simply stay frozen in dead-end old technology, and you can't just wait for a complete system failure to force you into a forklift swap out.
If you're wondering what can be done, know that this is what a solution for your legacy problem should look like:
It must immediately provide a technically stable platform that eliminates the danger of a sudden breakdown.

It must preserve the existing investment in legacy remote telemetry units.

It must not require large immediate costs.

It must be a permanent solution to legacy problems.
It must be a modern system that supports open-ended developing, including adding new functionality and new remote telemetry units, and it must be backed by a stable vendor who can commit to long-term support. There's not point in leaving one dead-end legacy system for another.
The Controlled Migration Solution
We, at DPS, have created a legacy support solution that addresses all four needs for a total solution to your legacy problem. The DPS solution gives you a controlled migration option, so you can gradually move from your existing legacy system to a fully modern network alarm management system.
The T/Mon is a practical replacement for the legacy master because it can support the client's currently installed legacy remotes. You can get an immediate solution to your most pressing problem - reliability and aging technology - by buying only one unit. The existing legacy remote telemetry units can be maintained in place until the end of their operational life.
The solution has two steps:
Replacing the existing legacy master with a T/Mon LNX.

Controlled migration from legacy RTUs to modern DPS remotes.
The T/Mon LNX is a practical replacement for any legacy master because it can support a client's currently installed legacy remotes. You can get an immediate solution to your most pressing problem - reliability and aging technology - by buying only one unit. The existing legacy RTUs can be maintained in place until the end of their operational life.
Controlled migration puts you, not the vendor, in charge of the pace of migration. You control the cost and scheduling of new equipment purchases, the cost of installation transport and manpower, and you also control the sequence of network changeover and its impact on network visibility.
Controlled migration also creates two key financial benefits:
Migration can take place over several budget cycles, minimizing the impact on capital expenditure and operational budgets.

You can buy new equipment strictly as your installation capacity permits, creating an immediate return on investment for every equipment purchase.
Replacing the Master Is 7 to 10 Times Cheaper than a Forklift Swap Out
Replacing the master is an essential first step. The master station is the weakest point of any legacy network monitoring system. If it dies, the entire system is gone.
T/Mon is designed to support many different types of devices, regardless of protocol or manufacturer. Because of its modular software design, support for new types of equipment is easily added.
T/Mon can support remotes from Larse, Badger, NEC, Dantel, Pulsecom, and Granger. If you need support for another system, a new custom solution can be designed quickly and at no extra cost.
T/Mon is a fully modern, fully supported system with advanced features like after-hours monitoring, automatic notification, and automatic correction of alarm conditions. You can use these features with your existing RTUs. With one step, you can immediately bring your existing system up to modern standards.
Once T/Mon is in place, you can then gradually replace your legacy remote units with modern DPS remotes in a strategy of controlled migration.
The Perks of Looking Ahead
Will our new RTUs installed today last as long as the legacy ones? The short answer is yes, and probably even longer.
DPS' monitoring system design strategy has evolved over the years. We build our equipment in such a way that it continues to be upgradable. We offer free firmware upgrades, so your unit can migrate with the technology as it changes.
The way we, as manufacturers, differentiate ourselves is that we actually put in practice our architectural principles of allowing integration and interoperability of the units' parts as they change over time. For us, moving forward should be much more fun that it was in the past.
Do you have legacy equipment that you need to replace? Do you have questions about our RTUs or master stations? We look forward to talking to you!
---
Get a Custom Application Diagram of Your Perfect-Fit Monitoring System
There is no other network on the planet that is exactly like yours. For that reason, you need to build a monitoring system that's the right fit for you.
"Buying more than you need" and "buying less than you need" are real risks. You also have to think about training, tech support, and upgrade availability.
Send me a quick online message about what you're trying to accomplish. I'll work with you to build custom PDF application diagram that a perfect fit for your network.
---
Don't make a bad decision

Your network isn't off-the-shelf.
Your monitoring system shouldn't be, either.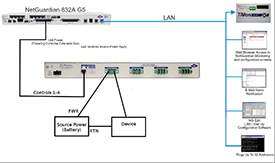 We'll walk you through this with a customized monitoring diagram.
Just tell us what you're trying to accomplish with remote monitoring.
Get Your Custom Diagram Now