Bob Berry - DPS Telecom Founder & CEO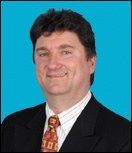 "It's my goal to provide you with the best monitoring solution possible regardless of your company's size."
-Bob Berry
Persistence, dedication, and vision are the words colleagues use to describe the personal values of Robert A. Berry - qualities that have led Berry from building robots in high school to building a company that is a leader in remote network telemetry.
Bob the CEO
Bob is the founder and CEO of DPS Telecom, one of the nation's leading developers of integrated network alarm monitoring solutions. The growth of DPS Telecom from a small consulting firm to an Inc. 500 company has been through the guidance of Bob's persistence, dedication, and vision.
Bob's Early Robotics
Growing up in the rural town of Reedley, California, Bob developed an interest in new technology early in life. He began studying electronics in the sixth grade, and he spent his senior year in high school designing and building a computer-controlled, self-navigating robot. This project won major awards at the Fresno County Science Fair that year.
What makes Bob's youthful accomplishment even more impressive is that he had learned everything he knew about electronics on his own. In fact, it wasn't until college that Berry heard the word "schematics," long familiar to him from his reading, said out loud-and learned, unfortunately, that his own pronunciation, "shemetics," was incorrect.
But more important than Bob's pronunciation was his drive to learn and achieve at everything he tried. (Bob's other accomplishment his senior year was to become an Eagle Scout.) Bob attended U.C. Irvine, where he met Eric Storm, a college programming partner who became one of the co-founders of DPS Telecom.
Founding DPS Telecom
Berry left college early to take a job with an electronics company in New Jersey. He returned to California to form a partnership with Eric Storm and Ron Stover. In 1986 the three partners founded Digital Prototype Systems, which later became DPS Telecom.
In its early years, DPS was a consulting firm that produced software prototypes for other companies. DPS formed a strategic alliance with a provider of remote telemetry equipment for the telecommunications industry.
But Bob saw greater opportunities. By the early 1990s, the previously staid world of telecommunications was opening up to greater competition and smaller, nimbler companies. The new telecommunications field was ruled by customer churn, as customers found that if they didn't like the service from one phone company, they could easily change to another.
The new telecoms needed near-perfect reliability, and they did not have the large repair staff of the regional Bell operating companies. Bob saw in the new market an opportunity to provide the new telecoms with automated gear that would allow them to monitor faults in their network with a smaller, less trained staff.
Bob's new vision of the importance of network monitoring in the modern telecom industry soon outgrew the alliance between DPS and its partner. DPS severed its ties to form a new vision of itself as a provider of complete monitoring solutions.
DPS on the Inc. 500 List
Since then, DPS Telecom has moved from strength to strength, with multi-million-dollar revenues and a spot on Inc. magazine's list of the nation's 500 fastest-growing companies.
Bob's coworkers are quick to credit him with the vision behind the success of DPS Telecom. "Bob has an ability to see solutions where other people see only problems," says Marshall DenHartog, DPS's vice president of operations. "He's able to absorb new ideas and new technologies and turn them into a unique expression that works better."
But Bob's creativity is tempered with a strong sense of financial prudence. DPS Telecom avoided the excesses of the dot-com era, and consequently now enjoys a level of fiscal stability rare in the technology field.
The focus of Bob Berry and DPS Telecom continues to be the "aggressive pursuit of customer satisfaction." In an interview with David Chesney of "Window on Wall Street," Bob said that he judges his performance by three factors: "Did we sell the product? Is the product meeting the client's needs? And does the client thank us?"
Ron Stover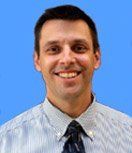 "I really enjoy talking to people using our products. I like being part of their success."
-Ron Stover
Ron has been with DPS since day one. Originally a test tech, Ron eventually became involved with new product design and verification and was in charge of client support for 15 years. He took his skills in design and verification to the next level and is now the head of sales.
Ron is probably the hardest-working member of the DPS team. When asked why he's here so much he replies, "The east coast doesn't want to wait until noon for support, and west coast customers need questions answered until 5 p.m."
Ron's hard work doesn't go unnoticed - Ron is always the first person here and one of the last to leave. His dedication to resolving client problems is incredible. "I would rather leave the building late having peace of mind than take off early knowing someone out there still needs help", says Ron.
Spending a lot of time on the phone with people, Ron comments, "I really enjoy talking to people using our products. They use them in many exciting ways. I like being part of their success."
Ron is extremely knowledgeable. In fact, it is nearly impossible to reach a higher level of expertise in any industry on a sales call. Most of the time you're likely to encounter an entry-level employee who has no comprehensive knowledge of the product - not so with DPS!
Ron is a native Pennsylvanian, but his home has been Fresno since 1985. When he's not busy running the help desk, Ron enjoys playing ice hockey and watching his kids play sports. Give Ron a call if you have any comments on support.
SNMP MIB: The File That Powers All SNMP Communication
I'll break down the concept of SNMP, the MIB file, and OIDs, so you can take that knowledge with you when you're managing your network to keep everything running smoothly.
by Andrew Erickson on December 3, 2019
Read Full Article
Temperature Monitoring System: How it Works & How to Choose
Remote temperature monitoring is most commonly used in telecommunication or IT environments where computer equipment must work with high reliability and high visibility for many years. This kind of monitoring protects you from...
by Andrew Erickson on December 3, 2019
Read Full Article
How Do I Justify My Remote Monitoring Purchase To Management?
You're interested in purchasing a remote monitoring system, but you can't get your boss on board with the idea. That's very common, since remote monitoring is not directly responsible for your company's revenue. However, think about alarm monitoring as a...
by Andrew Erickson on March 18, 2019
Read Full Article