View live streaming video of remote sites
Great for co-location sites
Helps to eliminate unauthorized access to remote sites
Significantly reduces windshield time by providing remote visual verification
Integrated 10/100 switch with uplink jack eliminates the costs and rack space associated with installing a separate switch
One-touch access to video via the NetGuardian's Web Browser Interface
Easy mounting on wall or ceiling
Increased security of remote sites
Camera runs on -48vdc or +12vdc (ordering option)
Up to 4 cameras per NetGuardian
The
NetGuardian SiteCAM
IP provides video surveillance of your remote sites - and it integrates directly with your NetGuardian
RTU
.
Streaming video:
View live
streaming video of your remote
sites and equipment with the
touch of a button.
The SiteCAM option for the NetGuardian provides remote site visibility in more than one way!
Added security for co-location sites can now be provided using video surveillance. No longer will network managers be forced to sit and wonder what is happening at their remote sites - hoping everything is fine. Now they'll be able to view live streaming video of their sites and equipment with the touch of a button. With multiple vendors co-locating equipment at each site, and each vendor having its own support staff, opportunities for interference with your equipment increase, malicious or not. Simply put, the more people with access to your equipment, the more security issues arise.
The camera is run off the NetGuardian's integrated 10/100 switch or it can be connected directly to a separate 100BaseT hub for higher performance. Up to four cameras can be connected per NetGuardian and they can be mounted to the rack, or attached to a wall or ceiling. When coupled with the Building Access System (BAS), the integrated camera provides the most complete remote site monitoring solution available.
---
Get a Custom Application Diagram of Your Perfect-Fit Monitoring System
There is no other network on the planet that is exactly like yours. For that reason, you need to build a monitoring system that's the right fit for you.
"Buying more than you need" and "buying less than you need" are real risks. You also have to think about training, tech support, and upgrade availability.
Send me a quick online message about what you're trying to accomplish. I'll work with you to build a custom PDF application diagram that's a perfect fit for your network.
---
Make an Informed Decision
Your network isn't off-the-shelf.
Your monitoring system shouldn't be, either.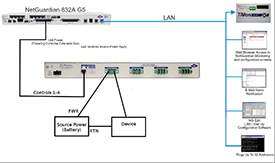 We'll walk you through this with a customized monitoring diagram.
Just tell us what you're trying to accomplish with remote monitoring.
Get a Custom Diagram