A large, complex network can create a cascade of alarms. Some are unimportant, but others are critical. Look for a RTU that can automatically sort and prioritize this flood of information for you.
Nuisance alarm filtering:
Even the best NOC staff stops taking alarms seriously if they're bombarded with status alerts, oscillating conditions, and unimportant alarms. Look for an RTU that filters these out.
Custom combination alarms:
A low battery isn't a serious problem, and neither is a failed generator - but they're pretty serious when they happen at the same time. Look for an RTU that can watch many different alarm inputs and spot critical alarm combinations.
Root cause analysis:
Finding the underlying cause between alarm cascades can take hours of patient detective work. Look for a RTU system that can automatically correlate repeated combinations of alarms.
History and trend analysis:
Identify problem areas and eliminate recurring problems with a RTU system that keeps a complete alarm history that's exportable for trend analysis.
Critical alarm collection and device management functions
Live analog monitoring:
You can't adequately monitor battery levels, temperature, and humidity with one-threshold contact closures. Look for an RTU that support for analog inputs, including live monitoring of actual analog values.
Control relays:
Many common site problems, from power outages to high temperature alarms, can be solved by quickly turning on a generator or an air conditioner. Remote operation of site devices is the best way to eliminate unnecessary site visits and it's a lot faster than going in the truck.
SNMP support and ping alarms:
If you're responsible for both telecom and IP equipment, consolidate all your monitoring on one RTU.
RTU Transport: Getting Your Alarms from the Site to Your Screen
Another very important factor to take into consideration when deciding upon an RTU is looking at how alarms will be transported back to your control office.
Once alarm data has collected at your remote sites, it needs to be transmitted over a data network to your alarm presentation master at your NOC. Alarm data can be sent over nearly any kind of data transport: Ethernet LAN/WAN, dial-up modem, dedicated circuit, overhead channel, WiFi, etc.
There are two things you should keep in mind about RTU alarm data transport:
As much as possible, you want to work with transports that are already available in your network. You don't want to create added expenses by committing yourself to installing new network infrastructure. It's best to choose an RTU that is compatible with the transport you already have.
It's a good idea to have a secondary backup path for your alarm data in case your primary path fails. No transport is 100% reliable, and you don't want to lose alarm visibility of your revenue-generating network under any circumstances.
RTU Sizing: Monitoring your small, medium and large remote sites
It is also important to note that the size of your network will determine the needs and requirements of your RTU:
Small RTUs:
Select a small remote alarm unit like the NetGuardian 216 for cell towers, remote huts, or enclosed cabinets (16 discrete alarms, 2 analog alarms, SNMP)
Medium RTUs:
Select a medium remote alarm unit like the NetGuardian 832A for remote switches (32 discrete alarms, expandable to 176 discrete inputs, 32 ping alarms, 8 analog alarms, 8 control relays, 8 serial terminal server ports, SNMP)
Large RTUs:
For central offices or regional hubs, select a large remote alarm unit like the modular Advanced Telemetry System (scalable from 96 to 1,824 discrete alarms, 48 to 864 analog alarms, 32 to 576 controls, SNMP or TL1)
---
Get a Custom Application Diagram of Your Perfect-Fit Monitoring System
There is no other network on the planet that is exactly like yours. For that reason, you need to build a monitoring system that's the right fit for you.
"Buying more than you need" and "buying less than you need" are real risks. You also have to think about training, tech support, and upgrade availability.
Send me a quick online message about what you're trying to accomplish. I'll work with you to build a custom PDF application diagram that's a perfect fit for your network.
---
Make an Informed Decision
Your network isn't off-the-shelf.
Your monitoring system shouldn't be, either.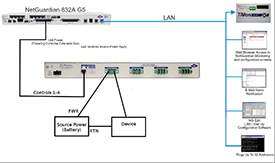 We'll walk you through this with a customized monitoring diagram.
Just tell us what you're trying to accomplish with remote monitoring.
Get a Custom Diagram