Supervisory Control and Data Acquisition (SCADA) Solutions: Interconnected Remote Alarm Monitoring and Control Equipment
Supervisory Control and Data Acquisition (SCADA) equipment provides distributed monitoring and control capability. A SCADA solution uses a network of interconnected SCADA equipment to create a Remote Monitoring and Control System.
SCADA Solutions Collect Data in Real-Time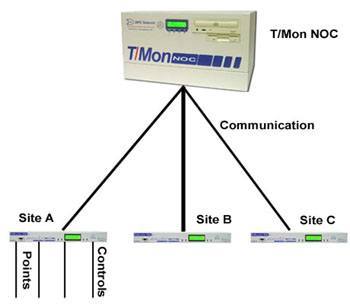 A SCADA solution provides a user with data acquisition, networked data communication, data presentation, and control. These processes are enabled by real-time data collection. The components that collect and manage this data across equipment are sensors, Remote Terminal Units (RTUs), Intelligent Electronic Devices (IEDs), SCADA master units, and the communication network.
Monitoring functions are a component of any SCADA solution while control functions may only be found in more advanced systems. A SCADA solution starts with RTUs collecting data from sensors across the network. The RTU, possibly after some local processing, passes data to the HMI (Human-Machine Interface) or SCADA Master, which then translates the data into a human readable form.
Almost Any Industry Can Utilize a SCADA Solution
These systems allow operators to easily view their network alarms in one comprehensive window, making a SCADA solution a powerful tool for network monitoring. These systems can be used to manage any type of equipment, and can be useful in almost any industry. This includes industries that commonly deploy SCADA solutions, such as the water and waste control, energy, oil and gas refining, transportation, and telecommunications industries.
The T/Mon SLIM Remote Alarm Monitoring System by DPS Telecom, puts control over your alarms directly into your hands. T/Mon SLIM is a new model of the T/Mon Remote Alarm Monitoring System, scaled to the needs of small, local and regional networks. The T/Mon SLIM allows you to monitor 10,000 alarm points and consolidate alarms from several sites into a single local or regional network. Additionally, it allows you to monitor up to 64 individual network devices in just one easy to read display, saving both time and money.



Download the SCADA Tutorial White Paper
Related Topics:
SCADA System