ECU LAN overview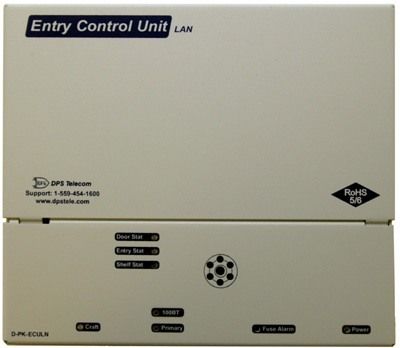 The ECU LAN is a single door solution that ties perfectly into your building access and network monitoring systems.
The Entry Control Unit with LAN access (ECU LAN) is designed to control individual door access without having to interface with an RTU.
The ECU LAN performs what used to be the function of a building-access-enabled RTU in a building access system, locally storing access codes. This one little device does double-duty, interfacing directly with T/Mon via LAN and with your door control peripherals locally, making it the perfect the perfect, all-in-one door control device for your low density sites where you don't need RTU functionality.

The ECU with LAN can control building access without having to connect to an RTU.
With the ECU LAN, you can now easily integrate building access functionality at your sites or doors that weren't typically a part of your network monitoring system. You don't have to employ a separate security system, rely a third party security company, or settle for an old-fashioned lock-and-key at your low density sites anymore. Simply install an ECU LAN and plug your doors into your monitoring network.
New! "Stand-Alone" Mode
The ECU LAN can operate independently of T/Mon using 32 access profiles databased via the unit's web interface. "Stand-alone" mode is great for turn-up testing, and smaller applications where T/Mon is not involved. The ECU LAN can notify you of unauthorized access via email as well, so if a break-in were to occur, you would know about it and be able to take the appropriate action immediately.
Increasing your ability to control access to your sites while utilizing your existing network monitoring resources, makes the ECU LAN the perfect addition to your Building Access System (BAS) at your low-density door sites.

The ECU LAN is perfect for your low density sites where you don't need RTU functionality.
The ECU LAN is a single-door total control solution:
Stores access codes locally
Provides 12/24V out to your door control mechanisms
Supports magnetic locks, door sensors, proxy cards and readers, keypads, and intelligent door controllers
Reports directly to T/Mon - setup notifications for door alarms just like you would any standard network alarm
ECU LAN Specifications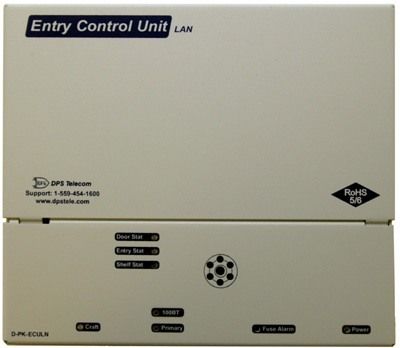 You can order your ECU to work with either a single keypad and proxy reader or dual proxy readers for clocking technicians in/out.
Full Specifications
Interfaces:
1 Rj45 LAN.
1 DB9 Craft Port.
Door Control Device Compatibility
Keypad.
Proxy Reader.
Dual Proxy Readers (Build Option).
Door Strike.
Mangetic Lock.
Motion Sensor.
Alarm Inputs:
3 (1 door alarm, 1 motion sensor, and 1 general purpose-purpose).
Power input:
-48 VDC.
Current Draw:
35 mA.
Fuse:
1 Amp GMA (Internal).
3/4 Amp GMT (External).
Audible:
Speaker with Adjustable Volume.
Visual:
Indicator LEDs.
Dimensions:
8.56" x 7.5" x 1.72".
Mounting:
Wall Mountable.
Operating Temperature
32 to 140 degrees F (0 to 60 degrees C).
Operating Humidity:
0%-95% noncondensing.
General Door Alarm information.
ECU LAN Applications

The ECU LAN receives building access profiles directly from T/Mon. It can be ordered to work with both a proxy reader and a keypad or to work with dual proxy readers for logging personnel in and out of facilities

The ECU LAN is accessible via the web and can operate in "Standalone" mode. In Standalone mode, the ECU LAN uses its own 32 internal profiles, databased via the web interface, to determine door access.

The ECU LAN's web interface makes setup easy and allows you to monitor your door and associated alarms from the Internet or your Intranet.
---
For more information please visit: BAS Knowledge Base
---