No matter what kind of equipment you need to monitor, DPS Telecom has a perfect fit solution for you. Whether you need small, versatile RTUs like the NetGuardian 216 ... large, full-function RTUs like the NetGuardian 832A ... or the complete T/Mon NOC Remote Alarm Monitoring System master station, DPS solutions are 100% guaranteed to work for you - or your money back.
See full specifications of all DPS Telecom alarm monitoring solutions ...
---
Get a Custom Application Diagram of Your Perfect-Fit Monitoring System
There is no other network on the planet that is exactly like yours. For that reason, you need to build a monitoring system that's the right fit for you.
"Buying more than you need" and "buying less than you need" are real risks. You also have to think about training, tech support, and upgrade availability.
Send me a quick online message about what you're trying to accomplish. I'll work with you to build a custom PDF application diagram that's a perfect fit for your network.
---
Make an Informed Decision
Your network isn't off-the-shelf.
Your monitoring system shouldn't be, either.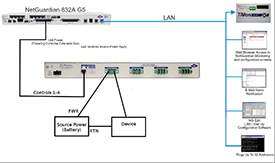 We'll walk you through this with a customized monitoring diagram.
Just tell us what you're trying to accomplish with remote monitoring.
Get a Custom Diagram