4 RS-232 serial reach-through ports
2 50-pin connectors
1 4-pin connector
1 RJ45 10BaseT Ethernet port
1 RJ11 POTS jack
1 DB9F craft port
Visual Interface:
18 LEDs, LCD display
Dimensions:
1.75"H x 17"W x 12"D (4.5 cm x 43.2 cm x 30.5 cm)
Weight:
4 lbs. 3 oz. (1.9 kg)
Mounting:
19" or 23" rack
Power Input:
+24 VDC
Current Draw:
200 mA
Fuse:
0.75 Amp GMT
Operating Temperature:
32 to 140 degrees F (0 to 60 degrees C)
Operating Humidity:
0%-95% noncondensing
Find temperature, humidity, and many other discrete and analog sensors for your DPS RTUs.
Ordering Options

The NetMediator-T2S can be used to collect legacy TBOS or TABS alarms using network bandwidth instead of expensive dedicated copper. The power of the Net Mediator is only limited by your imagination.
Find temperature, humidity, and many other
discrete and analog sensors for your DPS RTUs.
SiteMon IP Surveillance Camera

With this camera and RTU in one, you don't need to wonder what's going on at your sites. Connecting directly to the NetGuardian's optional LAN switch, the new SiteMON IP enables you to make security decisions remotely, allowing you to dispatch on-call staff, security, or even police. Available with or without an outdoor enclosure.

66 block

A 66 block is a simple way to use wire-wrap connections with DPS RTUs. When telcos really want connections to stay in place, they use wire wrap. You'll simply punch down your alarm, analog, and/or control relay wiring to the 66 block, then connect the 66 block to the RTU using a standard amphenol cable (also available from DPS).
Related Products
---
Get a Custom Application Diagram of Your Perfect-Fit Monitoring System
There is no other network on the planet that is exactly like yours. For that reason, you need to build a monitoring system that's the right fit for you.
"Buying more than you need" and "buying less than you need" are real risks. You also have to think about training, tech support, and upgrade availability.
Send me a quick online message about what you're trying to accomplish. I'll work with you to build a custom PDF application diagram that's a perfect fit for your network.
---
Make an Informed Decision
Your network isn't off-the-shelf.
Your monitoring system shouldn't be, either.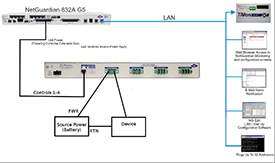 We'll walk you through this with a customized monitoring diagram.
Just tell us what you're trying to accomplish with remote monitoring.
Get a Custom Diagram