Download the
SCADA White Paper
Using PLCs
In a manufacturing industry, SCADA PLCs can usually be found next to each of the various manufacturing machines that must be monitored and controlled. Other PLCs might monitor in-process inventory as it moves through machines. Imagine a PLC with a temperature sensor that monitors the temperature of a key ingredient at a food manufacturing facility.
In water processing, each PLC is used by the SCADA system to monitor and/or control one aspect of the process. Each PLC might be used to monitor water quality for contaminants, flow rates at key areas in the water processing facility, or remotely control valves that control in-process water flow.
PLCs are typically quite customizable, but this can be a double-edged sword. Some competing technologies, including most notably SCADA Remote Telemetry Units (RTUs) (including Intelligent Electronic Devices or IEDs), require significantly less labor time and expense to set up and use.
How does a PLC compare to a Remote Telemetry Unit (RTU)?
An RTU, compared to a SCADA PLC, is generally more rugged and has higher monitoring and control capacities than a PLC. This makes SCADA RTUs superior at locations where many items must be monitored and controlled. If you have more locations that require just a few monitor/control nodes, then PLCs will probably be best for you.
For the above reasons, PLCs are commonly found in manufacturing and processing settings. Because plant operations can vary so widely, the customization of PLCs is a useful tool. Nonetheless, RTUs have their place protecting the IT assets of a facility. In the server room of a manufacturing facility, for example, the monitoring and control needs are exactly the same as those in the server room of a major office building. RTUs are better suited for this sort of environment.
Although PLC customization offers advantages for veteran users, others may prefer to order an RTU custom-designed for their monitoring and control situation. The real trick here is identifying a manufacturer with the necessary facilities and experience to help you. Look for a company that has engineering and manufacturing inside of its organization (DPS engineers and manufactures ALL of its units). The last thing you want to do in the deployment of your important SCADA system is to wait for overseas development and manufacturing to be delivered, where quality also becomes a concern.
So long as you watch for this potential pitfall, you can have good luck requesting a custom-designed RTU for you SCADA system. If you do your homework, this will be no more expensive than ordering off-the-shelf. As long as you're ordering a reasonable quantity (at least 10 or so), it's generally worthwhile for a manufacturer to develop a solution for you. Wait time will generally be fairly short (about 1-2 months from a vendor that has its own engineering and manufacturing). Remember that, while your custom SCADA RTU may have unique capacities, there probably isn't anything earth-shattering about its functionality. It shouldn't require nearly the development time that a completely new product would require.
A RTU Example
One modern RTU designed with SCADA in mind is the SCADA-Guardian. The 848 model includes, most importantly, a choice to use DNP3 protocol for alarm reporting and control commands. The other option, SNMP, is used more commonly in telecom and IT environments.
The capacities of the SCADA-Guardian were designed to accommodate the larger number of sensors generally need in SCADA environments. This SCADA-Guardian has 24 analog inputs (8 standard 0-5v/4-20mA and 16 daisy-chainable single-wire sensors). This allows users to monitor 2 dozen temperature, humidity, flow rate, and other analog sensors in two different output formats. An ambient temperature sensor is also built into the RTU itself. To allow for the monitoring of discrete "on/off" type events, the SCADA-Guardian also includes 8 discrete inputs and 4 control relays for controlling external equipment.
The relatively large number of sensor inputs compared to discrete/digital inputs is what makes the SCADA-Guardian a SCADA RTU. It can perform functions very similar to a SCADA PLC, but it does not require nearly the development or scripting expertise to develop a working PLC system.
Larger models of the SCADA-Guardian have also been made available by the manufacturer: DPS. These are useful if you have particularly high-density areas that must be handled by your SCADA system. In these areas, SCADA PLCs truly become inefficient.
While we're discussing a DPS remote, I should also report that DPS Telecom (don't be discouraged by "Telecom" in their name, because DPS is a savvy company that has dramatically expanded beyond its telecom roots) has the vertical integration I discussed earlier. With engineering and manufacturing under the same roof as sales, DPS doesn't force you to call a no-nothing call center to place your order. If you have a specific need for a SCADA PLC or RTU, you'll be connected with experts who have worked with all sorts of monitoring and control systems and who can handle even unusual SCADA requests.
The SCADA-Guardian 848 itself was the response to a specific client request. A durable RTU was required for a location where flimsy PLCs just couldn't survive. The existing SCADA system was based on DNP3, however, which eliminated every SNMP-based RTU on the market. The SCADA-Guardian was envisioned and developed as a solution to the inadequacies of both SCADA PLC's and SNMP RTU's from the telecom world.
Real-world SCADA PLC Projects
DPS has worked on several remote monitoring and control projects that included SCADA PLCs. Here are a few such examples:
One client contacted DPS asking for a way to have PLC alarm trigger a phone call. "I'm working on a cold storage facility. They already have temperature switches installed in the field connected with PLC. In case of any deviation in temperature the PLC receives the signal and alarm is generated." The solution here was to notify technicians about alarms via a phone call. Once there was an alarm, the PLC would energize a relay whose potential free contact would activate an alarm dialer (NetGuardian LT) that would issue calls to the predefined telephone and play a pre-recorded message.
Another client called in after finding DPS via web search. They are a food processing plant with several industrial machines with PLC's. He wanted to be able to bring that data over his network via a DB9 port. He didn't know if it's an RS232 or RS485 signal. At the time, he connected to the PLC via his laptop's DB9 port, but he can only connect one at a time and he has to take the laptop with him to each station. He wanted to be able to bring that connection onto his network and use his PC to accept/report back to the industrial machine(s). This way, it eliminates him having to go to each station to get data. The right solution here was the NetGuardian 832A G5 with its 8 terminal server serial ports.
---
Get a Custom Application Diagram of Your Perfect-Fit Monitoring System
There is no other network on the planet that is exactly like yours. For that reason, you need to build a monitoring system that's the right fit for you.
"Buying more than you need" and "buying less than you need" are real risks. You also have to think about training, tech support, and upgrade availability.
Send me a quick online message about what you're trying to accomplish. I'll work with you to build a custom PDF application diagram that's a perfect fit for your network.
---
Make an Informed Decision
Your network isn't off-the-shelf.
Your monitoring system shouldn't be, either.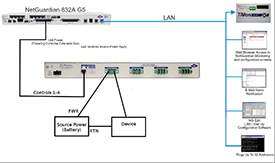 We'll walk you through this with a customized monitoring diagram.
Just tell us what you're trying to accomplish with remote monitoring.
Get a Custom Diagram