Ron Stover
Ron Stover has been with DPS since Day One. With over 21 years of experience, Ron has seen just about every problem you might run into. As an installation and deployment expert, Ron has also seen nearly every state, as well as parts of Mexico and Canada, during field installations and field trials.
Ron is one of the hardest working members of the DPS team. He's the first to arrive and one of the last to leave. "I would rather leave the building late having peace of mind than take off early knowing someone out there still needs help", Ron says.
---
Contact the DPS Tech Support Team for 24x7 help with your monitoring.


To receive a price quote or ROI analysis...

Call 1-800-693-0351

Access to Firmware,
Software, User Manuals and
Product Documentation

Get Help Now! Tech Support
(559) 454-1600
support@dpstele.com

Or, contact us after-hours on our Google Voice support phone:
Frequently Asked Questions
T/Mon NOC - T/Mon SLIM
NetGuardian
General Tech
KDA
AlphaMax
DPM/DCM
Analogger
DCPe Test Set
DCP Test Set
Sales
DPS Telecom
Privacy Policy

Client Support Services
DPS Factory Training
T/Mon Gold Plan Maintenance Agreement
Protocol Alarm Monitoring Ezine
White Papers
Applications Knowledge Base
Telecom Information Library
Warranty Information
Request Information
DPS Deployment Support Ensures Smooth, Hassle-free Monitoring Operation
Thank You for Requesting DPS Engineering Specifications
"With Free Tech Support, you don't have to reach for your wallet as you reach for the phone..."
Download Ezine Now!
DPS is Going Green with Electronic User Manuals
The SNMP White Paper Series in Print
How to Select a Remote Alarm Network Monitoring System
Modem Configuration
Get More Information About Network Reliability Management Solutions
New Update to the NetGuardian 832A/864A G5 User Manual
Thank you for rating the DPS Telecom ezine
Hear a Sample Voice Alarm - on Your Own Phone
Enter your phone number. We'll call you back about remote monitoring.
RMA - Return Merchandise Authorization
Change Your Subscription Settings
About this Website
Public Network Time Protocol Servers
NOVA - The Network Outage Vulnerability Assessment

---
Get a Custom Application Diagram of Your Perfect-Fit Monitoring System
There is no other network on the planet that is exactly like yours. For that reason, you need to build a monitoring system that's the right fit for you.
"Buying more than you need" and "buying less than you need" are real risks. You also have to think about training, tech support, and upgrade availability.
Send me a quick online message about what you're trying to accomplish. I'll work with you to build a custom PDF application diagram that's a perfect fit for your network.
---
Make an Informed Decision
Your network isn't off-the-shelf.
Your monitoring system shouldn't be, either.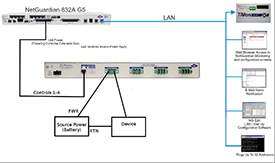 We'll walk you through this with a customized monitoring diagram.
Just tell us what you're trying to accomplish with remote monitoring.
Get a Custom Diagram