Network administrators can remotely monitor your equipment for critical conditions that may affect your gear from a central location such as a network operation center.
With good remote monitoring techniques you'll be able to promptly respond to network problems - and fix them before they cause serious damage. You have to use the right monitoring solution - choosing a poorly designed or limited system will only trick you into a false sense of security. You'll think your network is protected, but in reality, your limited solution is leaving you vulnerable.
If you want the best monitoring system you can get, then you'll want to look for these 5 essential features:
Live analog monitoring

- Without the right analog sensor technology you can't monitor critical environmental conditions. A basic discrete sensor can only provide you with binary "on/off" information (for example it can only tell you if the temperature has risen past a certain point or if your battery levels have dropped below a certain point). Discrete sensors are limited, so make sure you have live analog monitoring. Analog sensors can give you precise readings (for example, the temperature of your server room is 84.2 degrees or the battery level has dropped to 8%).

Multiple alert methods

- Monitoring systems that only provide internal alerts to your NOC don't give you any versatility. Support for 24/7 alert capability (via email, pages, voice alerts, or SMS text messages) is critical - because emergencies don't keep standard business hours.

Easy-to-use setup and configuration

- A good monitoring system won't require excess training to use, nor will it create confusion in your employees when they try to manage alarms. Simple plug 'n' play setup with an easy-to-use graphical web interface are essential features of any good remote monitoring system. Using a web interface allows you to manage your alarm network from any computer - without the extra hassle.

Backup data transport

- Don't rely solely on your primary network to report alarms. If there are any problems with your data transport, you'll lose critical visibility of your remote sites - exactly when you need them most. Your alarm notification system should support backup method of transporting data - dialup, wireless, fiber, etc. The right backup reporting guarantees your network is still monitored even if your primary data transport goes down.

Reliable hardware

- The last piece of equipment to fail should be your remote monitoring system. You can't afford to leave your network's security in the hands of cheaply built equipment that's not ready for the job.
Finding the Right Monitoring Remote
Can you picture how much easier your network will be to manage if you were able to view the status of all your sites? With a remote monitoring system, you'll no longer have rude surprises when there's a problem with your network. You can guarantee you'll be the first person to know about an emergency - not the last.
You're serious about protecting your network uptime (and your bottom line), which is why I recommend taking a few minutes to download and read the free Network Alarm Monitoring Fundamentals White Paper.
This free guide will teach you the basics about alarm monitoring. This way your remote monitoring project will be filled with success - not sunk costs, delays, and headaches. You'll learn important concepts such as:
What equipment you must monitor...
How to design an alarm system to meet your current and future needs...
How to minimize transition costs...
Don't let your remote monitoring project turn into a nightmare - contact the remote monitoring experts at DPS Telecom for a free consultation. They'll answer your questions, help you design a monitoring solution for your network, or even provide you with a free ROI analysis.
To start protecting your network...
Call 1-800-693-0351
Email sales@dpstele.com
Use the box below to submit a fast information request to Mac Smith - a monitoring specialist who can help you with your remote monitoring project
Other Helpful Links
How A Remote Control Monitor Will Prevent Outages And Save You Money
Reduce Truck Rolls
Slash Costs And Improve Productivity
Alarm Visibility
Remote Alarm Units
Gain Visibility And Control Of Your Remote Sites
---
Get a Custom Application Diagram of Your Perfect-Fit Monitoring System
There is no other network on the planet that is exactly like yours. For that reason, you need to build a monitoring system that's the right fit for you.
"Buying more than you need" and "buying less than you need" are real risks. You also have to think about training, tech support, and upgrade availability.
Send me a quick online message about what you're trying to accomplish. I'll work with you to build a custom PDF application diagram that's a perfect fit for your network.
---
Make an Informed Decision
Your network isn't off-the-shelf.
Your monitoring system shouldn't be, either.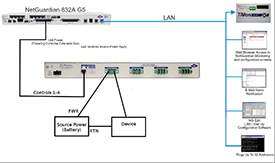 We'll walk you through this with a customized monitoring diagram.
Just tell us what you're trying to accomplish with remote monitoring.
Get a Custom Diagram