Terminal server port for LAN access to switches, routers, PBXs and other serial-interface devices.
Intuitive Web Interface GUI (via LAN).
Automated 24/7 Email Alerts via LAN.
Alarm alert messages (SMS) to your cell phone.
Logs Local Events, so you can track trends and locate recurring network problems.
Optional dual -48 VDC or 110 VAC power input.
Compact rack mount form factor .
Security: Encrypted SMS messages between the NetGuardian 216 and SMS receiver, without any IP routing involved.
Will only send reports when alarms occur; however, keep alive, or "heartbeat", messages can be configured.
Comes with single rack ear (2nd Ear optional, recommended)
Free lifetime firmware upgrades.
Windows-based configuration backup utility: Stores and restores all your configuration files for mass re-loading.
Optional POTS modem supplies alternate path reporting to pagers & T/MON.
To receive a price quote or ROI analysis...
Call 1-800-693-0351.
---
For further information regarding SMS monitoring solutions.
Wireless GSM/CDMA Knowledge Base.
---
Get a Custom Application Diagram of Your Perfect-Fit Monitoring System
There is no other network on the planet that is exactly like yours. For that reason, you need to build a monitoring system that's the right fit for you.
"Buying more than you need" and "buying less than you need" are real risks. You also have to think about training, tech support, and upgrade availability.
Send me a quick online message about what you're trying to accomplish. I'll work with you to build a custom PDF application diagram that's a perfect fit for your network.
---
Make an Informed Decision
Your network isn't off-the-shelf.
Your monitoring system shouldn't be, either.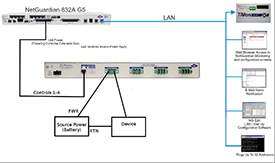 We'll walk you through this with a customized monitoring diagram.
Just tell us what you're trying to accomplish with remote monitoring.
Get a Custom Diagram