832a g4
NetGuardian 832A G4: High Capacity SNMP Alarm Collector

Average user rating:

4.6

out of 5 stars

based on

39

reviews from the install base.
See the new NetGuardian G5 with SNMPv3 and enhanced security...

The NetGuardian 832A G4 monitors 32 discrete alarms and 8 analog alarms. It pings 32 network elements, controls 8 relays, and provides LAN reach through access to 8 serial ports. It reports via SNMP v2c or DCPX, e-mail, or pagers - a complete remote site monitoring solution
Versatile and Capable SNMP Alarm Collection
High Capacity: 32 discrete alarms (expandable to 176), 32 ping alarms, 8 analog alarms, 8 controls, and 8 serial ports for monitoring remote sites.
Reports alarms via SNMP v2c or DCPX.
Reports alarms to a lot of SNMP managers or TMon Remote Alarm Monitoring System so it's easier than every to support a more secure redundant master architecture.
Dual Ethernet support for secure network access, both NICs have access to the NetGuardian but not to each other.
8 high-speed (110K) serial ports provide multiple user LAN-based reach. This is through access to PBXs, switches, and any other device with a craft port or serial only interface. (Similar to terminal serve functionality)
Integrated 4 port hub allows functionality with the NetGuardian SiteCAM for visual site surveillance.
Alarm point grouping provides severity levels, custom virtual alarms and more.
RoHS 5 approved, for overseas clients requiring RoHS compliant units.
Alternate dial-up reporting path for continuous remote site monitoring in case of a main communication path failure.
Configure the NetGuardian and monitor your remote sites via Web browser (view simulation)
E-mail and pager alerts.
Free lifetime firmware upgrades
Free Windows-based utility for off-site editing and remote provisioning via LAN
Plus, multiple customization and expansion options:
Integrate with the Building Access System
Add sensors for temperature, humidity, etc.
Integrate site video surveillance into the NetGuardian web interface to help confirm alarms and increase site security.
The NetGuardian hinged back panel accessories provide alternatives for wiring your remote site alarm points. Wire wrap, screw-lug terminations, and punch block are some of the wiring options available.
Multi-layer, multi-user, multi-privilege security system.
---
---
See Real-World NetGuardian 832A Applications
General information on remote site monitoring...
Screens
The NetGuardian 832A G4's web interface provides for quick and easy access to your alarms, analogs, control relays, and more, all through your web browser.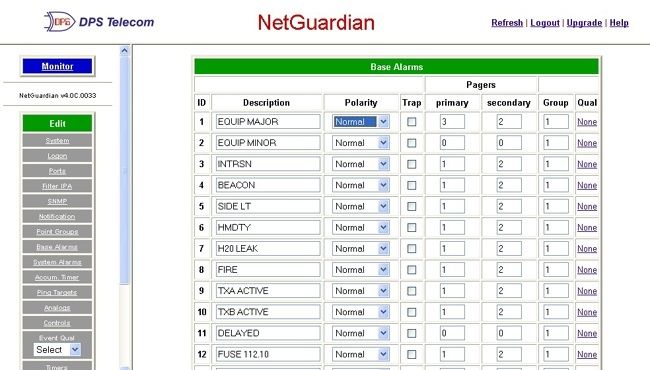 The NetGuardian 832A G4's Web Browser Interface lets you configure and monitor your alarms from any web browser.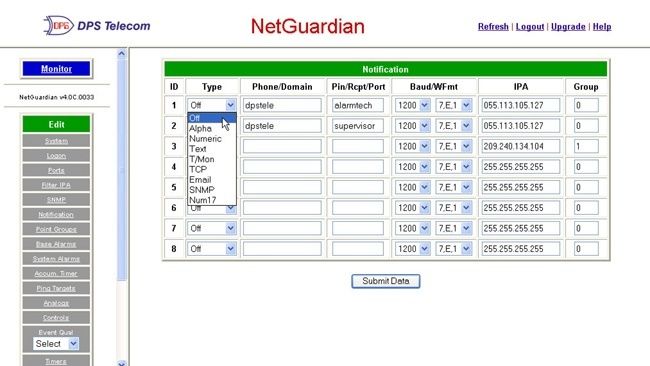 Configure notifications and paging schedules, so you can be sure the right person gets the right alert.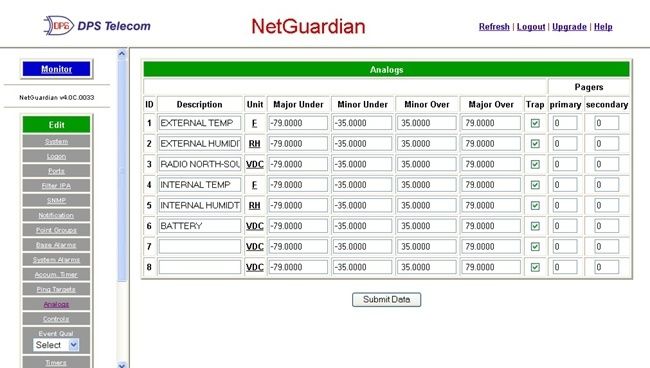 Provision and monitor all of the NetGuardian 832A G4's 8 analog alarms from the web interface.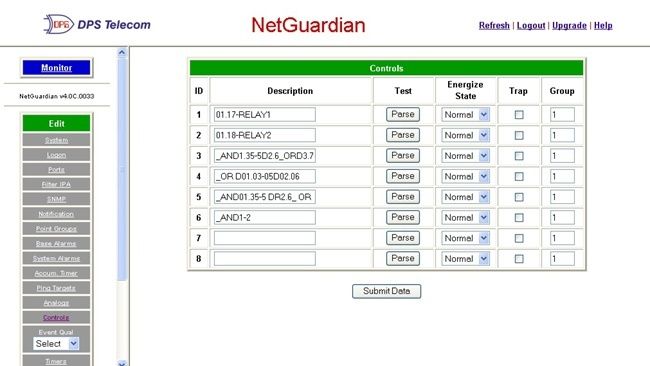 Operate your unit's control relays from wherever you have internet access.
Support

The NetGuardian 832A monitors 32 discrete alarms and 8 analog alarms, pings 32 network elements, controls 8 relays, provides LAN reach through access to 8 serial ports, and reports via SNMP v2c or DCPx, e-mail, or pagers.
Related Articles
Request More Information
To learn more about this and other unique DPS product applications, navigate to our Request Info page.
Request More Info!
Need a Quote?
Get it by: 4:15 PM Monday (tomorrow)
8:00 AM Monday
We'll Start Work on Your Detailed Quote
4:15 PM Monday
Get Your Quote (Email PDF)
It's 8:20 PM on Friday at our Fresno, CA, USA headquarters. We'll start work on your quote first thing on Monday.
Get a Quote