TCP vs UDP Communication
Transmission Control Protocol (TCP).
TCP is connection based, meaning that one program is connected to another program and they send messages across the internet to each other. TCP is heavyweight, meaning it requires three packets to set up a connection before user data can be sent.
User Datagram Protocol (UDP).
While TCP can be used for SNMP, it was originally designed for UDP transport only. While UDP may not have all the functionality of TCP, this actually makes it better for some applications. UDP is faster than TCP because it does not order packets (which can be done by the application layer), and it is a connectionless protocol. UDP is actually better suited for repetitive, low-priority functions like alarm monitoring.
While some SNMP equipment uses TDP, the vast majority transmits through UDP. When looking for SNMP equipment, look for reliable managers and agents that use UDP.
SNMP Capable RTUs.
Some examples of RTUs with UDP capability are the NetGuardian 832A, NetGuardian 216 and the NetGuardian LT by DPS Telecom. These RTUs are SNMP compatible and range in discrete input size, allowing your company to select the RTU that fits your needs perfectly. Additionally, they all have UDP capability.
The NetGuardian 832A G5
The NetGuardian 832A has 32 discrete alarms and 8 analog alarms, pings 32 network elements, controls 8 relays, provides LAN reach through access to 8 serial ports, and reports via SNMP v3. Even though it fits in just 1 ru of rack space, it is perfect for larger sites. The NetGuardian 832A G5 has dual Ethernet support for secure network access - both NICs have access to the NetGuardian but not to each other. Additionally the NetGuardian 832A G5 features a wide range of options and expansion units, so that you get a unit with the perfect capacity for your specific needs. With this NetGuardian, you can not only send SNMP Traps, but you can also monitor a wide range of other units and sensors. For a large network, the NetGuardian 832A has the ability to report alarms to multiple SNMP managers or TMon Remote Alarm Monitoring System, so it's easier than ever to support a more secure redundant master architecture.
The NetGuardian 216
The NetGuardian 216 is a mid-sized RTU. It has the capacity to monitor 16 discrete alarms and 8 analog alarms, pings 32 network elements, controls 2 relays, provides LAN reach-through access to 7 network elements, and reports via SNMP. As mentioned above, the NetGuardian 216 works with the SMS Receiver (discused below) to report alarms via SMS, either direct to your mobile phone or to your alarm master. You'll be the first to know about a problem.
The NetGuardian LT G2
The smallest of the three RTUs is the NetGuardian LT. The NetGuardian LT G2 is a compact, LAN-based, and rack-mounted remote telemetry unit (RTU). This device is easy to install and features a light capacity - making it the perfect RTU to deploy at small remote sites with just 4 discretes. Based on the time-tested NetGuardian design, this telco-grade remote is housed in a durable aluminum chassis and is scaled to be a perfect-fit solution where a large capacity RTU would be more than you need. It can also have 1 analog input and can support SNMP. With other options available, this RTU, as well as the others are customizable to fit your monitoring need.
SNMP embedded in an Cellular SMS message.
Yet another SNMP transport method is by SMS message via an SMS receiver. Your wireless RTU sends alarms to the SMS receiver and then forwards them to your master station. As normal, the master station then alerts techs or other appropriate personnel that there is a problem.
The SMS Receiver by DPS Telecom allows you to use your wireless RTUs with your alarm master station without paying for an expensive third-party data provider or opening a hole in your firewall to receive alarms on your master station.
Wireless RTUs previously created a lot of unwanted trouble for companies. To send alarms to your master station, you had to pay your cellular carrier or a third party data provider for a static IP address. Then, you had to punch a hole in your firewall to get that data back into your network - a security risk that some IT departments simply weren't willing to take.
Rather than reporting alarms over IP, simply configure your wireless RTU to send SMS alarm notifications to your SMS Receiver. The SMS Receiver then parses the SMS Notification and forwards an SNMP trap to your T/Mon or alarm master station over LAN.
Reporting alarms via SMS rather than IP allows you to bypass the traditional hassles of wireless IP-based alarm reporting. One SMS Receiver can report alarms for multiple RTUs as well, allowing you to cheaply and easily employ wireless RTUs or establish a backup alarm-reporting path over wireless devices.
---
Get a Custom Application Diagram of Your Perfect-Fit Monitoring System
There is no other network on the planet that is exactly like yours. For that reason, you need to build a monitoring system that's the right fit for you.
"Buying more than you need" and "buying less than you need" are real risks. You also have to think about training, tech support, and upgrade availability.
Send me a quick online message about what you're trying to accomplish. I'll work with you to build a custom PDF application diagram that's a perfect fit for your network.
---
Make an Informed Decision
Your network isn't off-the-shelf.
Your monitoring system shouldn't be, either.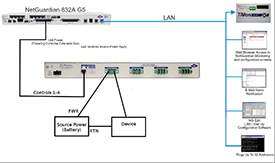 We'll walk you through this with a customized monitoring diagram.
Just tell us what you're trying to accomplish with remote monitoring.
Get a Custom Diagram