Range Communications Maintains Seamless Network Connection with T/Mon
Range Communications has been connecting Western rural communities by providing telecommunication services in since 1953. Range currently serves over 13,000 broadband subscribers, operates over 4,700 miles of fiber-optic network, and employs more than 160 communications experts.
One of these experts is Curtis Hamer, who is based at Range's location in Worland, WY, and serves as a Data Network Technician. He is responsible for taking care of all the internal and external communications equipment. This includes access, transport, and their internal network.
Hamer has been familiar with DPS since 15 years ago with a different company, but personally has been working with DPS with Range for about 4 years. With the support of DPS Telecom's monitoring systems, Curtis and the team at Range closely monitor temperatures, power levels, and the health of their communication equipment.

Range serves much of Wyoming and a portion of Montana.
What Would Range Look Like Without Remote Monitoring?
"If there was no remote monitoring, we would lose service to customers, businesses, possibly for weeks. That's not good...we have to have monitoring to make sure we stay working." - Curtis Hamer, Range
With over 30 communities in Wyoming and Montana depending on Range to for seamless telecom service, they cannot afford network downtime. Such a great responsibility to local communities means going without reliable network monitoring is not an option.
What might happen if Range didn't have any remote monitoring? "We would lose service to customers, businesses, possibly for weeks," predicted Hamer. "We just can't do that. The FCC won't allow us, we have to have monitoring to make sure we stay working." Not only would Range have trouble with the FCC, but thousands of clients could be put at risk by an outage.
"Monitoring equipment and seeing alarms as they happen live helps us troubleshoot problems; it helps us see problems in real time." - Curtis Hamer, Range
The T/Mon alarm master and a range of NetGuardian RTU systems empower Range with a robust method to manage and monitor critical operations at Range's 60 to 70 telecom sites throughout their service area. Range also has about 150-200 DPS Entry Control Units active at their sites. With the support of DPS Telecom's monitoring systems, Curtis and his team closely monitor temperatures, power levels, and the health of their communication equipment.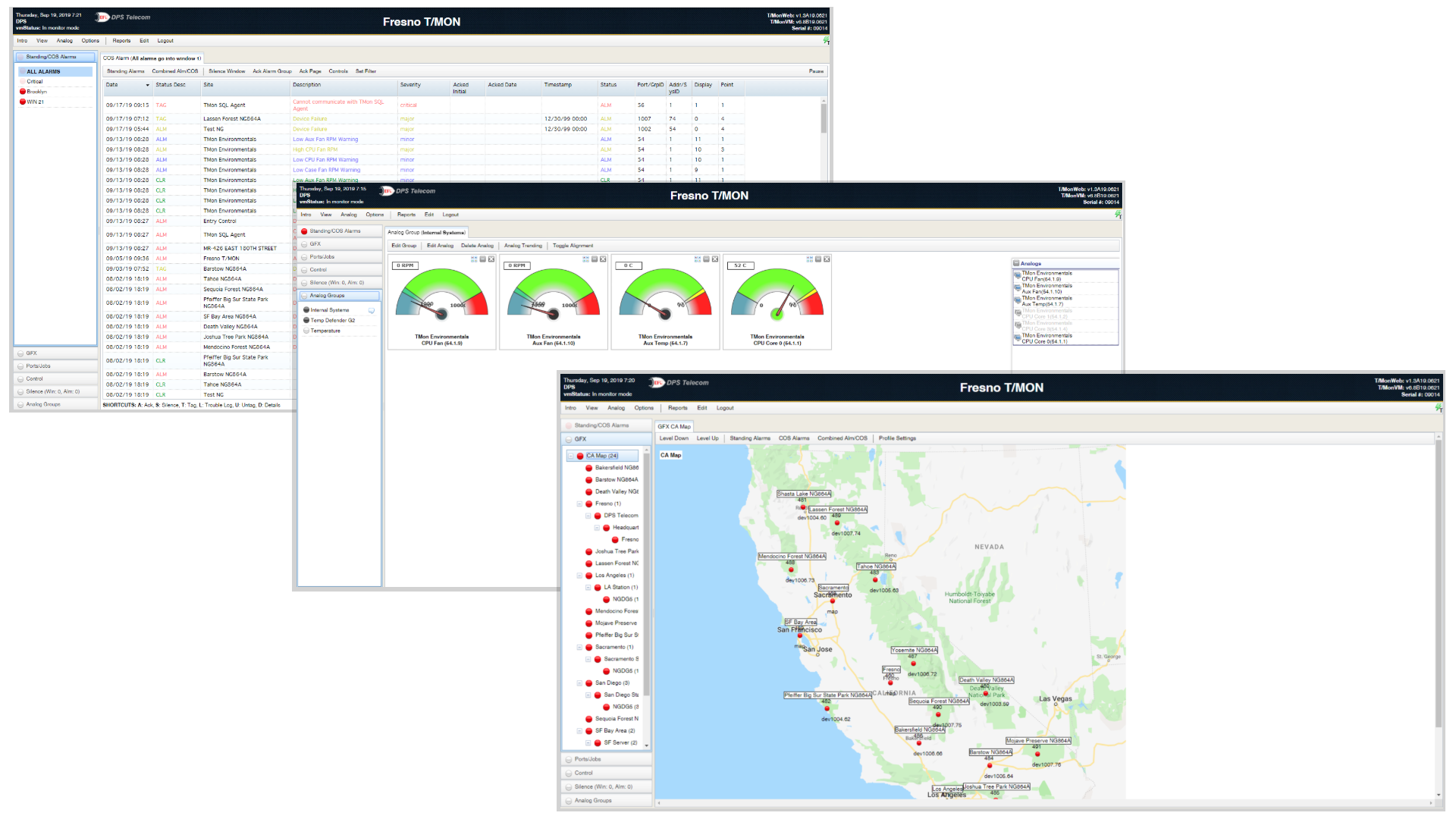 The T/Mon GUI allows effortless management and visibility for your remote monitoring system.
T/Mon Alarming Helps Range Prevent Network Downtime
The vastness of Wyoming and a slice of Montana, combined with a limited workforce, can pose significant challenges when it comes to swift equipment repairs. But with remote monitoring, Curtis and his team can detect issues early, before they escalate into severe problems.
One example involved a distant equipment failure in Casper, Wyoming. The T/Mon alerted the team of an ambient temperature alarm in time to prevent total equipment failure.

Range's field technicians save time going out to sites thanks to remote monitoring.
According to Curtis, it's not uncommon to have cattle rubbing against poles and causing power outages.
In another incident, they discovered a wire filled with water from melted ice, which had shorted out a switch - a problem they were able to immediately investigate and resolve thanks to real-time alerts and data received from the DPS monitoring gear they had set up at the site.
Great Interactions with Engineering and Sales Teams Set DPS Apart
"One of the reasons I think DPS is great is because of the customer service. It's really good." - Curtis Hamer, Range
Hamer has worked with many members of the DPS engineering team for (free) tech support. "They're always super responsive, they jump right in and figure stuff out. If I have questions, the'yre quick to answer and explain what's going on and what they're doing and why," he commented.
Hamer has also collaborated with Ron, sales engineer at DPS. This relationship has allowed him to manage RMAs, upgrades, and new setups, further facilitating the seamless operation of Range Communications.
Curtis Hamer also took advantage of DPS's tuition-free Factory Training, noting that it helped him better understand the advanced aspects of their tools and how SNMP works. "I really am looking forward to getting the Dashboards going," he emphasized, looking forward to quicker, visual monitoring, which he believes will prove invaluable for management.
He also plans to return to Fresno for Advanced Training in September to further increase his understanding of how to maximize the efficacy of DPS remote monitoring solutions for Range.
Range Communications' deployment of DPS remote monitoring solutions plays a significant role in maintaining reliable and efficient communication services across Wyoming and parts of Montana. Range Communications and Curtis Hamer, through the power of DPS Telecom, continue to ensure that their customers enjoy the best possible service.
Partner with DPS Telecom for Effective Remote Network Monitoring
Don't let your communication services suffer from unforeseen outages and disruptions. Take a cue from Range Communications and entrust your network monitoring to DPS Telecom. Benefit from our robust remote monitoring solutions and top-tier customer support to ensure seamless operation of your telecom services. Feel free to reach out to our dedicated sales team - they are ready to guide you through the process, helping you choose the perfect solution for your needs. Give us a call at 800-693-0351 or send an email to sales@dpstele.com and let's start building a more reliable future for your network.

Haley Zeigler
Haley is a Technical Marketing Writer at DPS Telecom. She works closely alongside the Sales and Marketing teams, as well as DPS engineers, resulting in a broad understanding of DPS products, clients, and the network monitoring industry.