NOC Center Design Best Practices
Before reading on, you should know the Basics of Network Monitoring
Also, be aware of the Top 5 Considerations when Selecting Alarm Monitoring System
A Network Operations Center (NOC) - NOC is pronounced "knock" - forms the data management center of any medium or large-scale network monitoring effort. In it, your NOC engineers are responsible for continuously monitoring and responding to day-to-day network problems. Your NOC services form the vital link between the detection of a network server problem and the implementation of a solution (usually in the form of a technician dispatched to the remote site).
While many NOC operation centers (yes, the word "centers" is redundant, but it aids understanding), are open 7x24x365, this isn't always the case. Some companies are in a transitional phase of growth.
Their network is large enough to have warranted investment in the construction of a NOC in the data center, but they can't yet justify the expense of staffing it outside of regular or possibly extended business hours. In this case, companies use after-hours alarm notifications (to email or phones) to alert on-call technicians of alarms in the network.
The core of any NOC room is one (or sometimes more) central master console. This centralized location accepts inputs from your handful, hundreds, or thousands of remote network devices in real-time.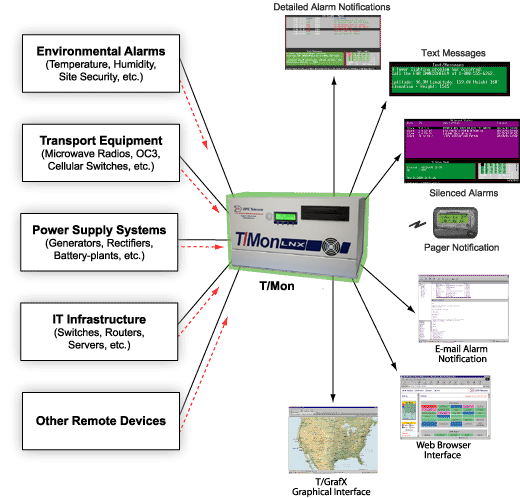 In this diagram,
the T/Mon LNX central console
forms the heart of this NOC (network operations center). By interpreting alarms from many protocols and displaying them on geographic maps, T/Mon demonstrates core industry best practices for centralized alarm monitoring and management.
Best Practices of NOC Monitoring to Keep In Mind
As you are building your NOCfrom scratch, remember to avoid several common pitfalls that will bring you performance issues.
You need to work hard to make sure that all alarms throughout your network can be integrated into one unified monitoring system. Otherwise, you're increasing the difficult of resolving issues and staffing requirements associated with monitoring alarms.
If you've never been cursed with having to monitor a lot of incompatible monitoring systems, you can't really appreciate how much of a hassle it is. You'll have to keep your head on a swivel, learn a lot of interfaces, and struggle to tie in related alarms from the different systems (which are divided by equipment compatibility, not by any logical division like geography).
You also need to make sure whatever central console you deploy in your NOC network can filter nuisance alarms. Any network has its share of alarms that are good to log, but really don't require a response from the operator. The more of these you have in your NOC, the more you're training your NOC technicians not to pay attention to alert messages. A good central console can hide unimportant messages from staff, allowing the truly important messages to rise to the top of the list.
An Example of Competent Network Operation Center Tool
To become more familiar with what a network ops center requires, it will be helpful now to review a monitoring tool example. I like to use the T/Mon LNX central console since it contains many of the concepts I just mentioned.
The most useful thing about T/Mon is its ability to know lots of protocols (both modern and legacy). The count is actually around 25 at this point, and this enables T/Mon to avoid the multi-screen headaches I described above. It's very likely that you'll be able to put all of your alarms into one central system, allowing computers to do the busywork instead of your staff.
T/Mon can also intelligently filter your incoming alarm messages to keep your staff focused on the important alarms. You can configure simple rules that T/Mon will use to make a show/hide decision for each new alarm message. T/Mon will still log all inbound alarms received at your network actions center, so you can still review all alarms received after an incident.
When choosing a network operations center monitoring software, it's also important to choose one that has a convenient and intuitive interface. You don't want your staff to waste time with problem resolution, trying to figure out what an alarm means when they could be reacting to it. Every minute wasted in your NOC surveillance means more expenses for you and a greater potential for a missed problem leading to extended network downtime.
T/Mon includes a pair of interfaces that meet this standard. The most commonly used within the NOC is T/GFX software. This runs on Microsoft Windows and used MapPoint maps as a backdrop for your alarms.
Because your alarms appear on actual geographic maps instead of a non-visual list of text messages, your staff - even those who have not been extensively trained - are able to and easily know where alarms are occurring. This is especially helpful if you are trying to interpret the root cause of many simultaneous alarms. When you can see that alarms are clustered around a single area, it becomes very obvious where the problem must lie.
Sometimes, however, you're not in the NOC. Sometimes you have to be out in the field. Wherever you have a PC workstation, including your laptop out at a remote site with LAN access, you can access the T/Mon Web 2.0 interface. Designed for quick alarm review, this web interface uses color coding in place of geographic maps.
The beauty of any alarm interface, of course, is that you don't have to install any software to use it. All you need to do is enter the IP address of your T/Mon into your web browser and hit "Enter".
After a single page load lasting just a few seconds, T/Mon will no longer require any more page refreshes. This is the hallmark of Web 2.0 technology. The page will update itself, but no conventional refresh will ever be required. You will always have current alarm data.
Next Topic
Key NOC Equipment
Central Console: T/Mon (includes T/GFX geographic map software)
Alarm Remote (RTU): NetGuardian 832A G5