A SCADA HMI, also referred to as a SCADA Master, can provide a number of helpful extensions for network alarm management. RTU data can be filtered, analyzed and monitored against operational standards.
SCADA Points Classified as "Hard" or "Soft"
These points fall into two groups. A SCADA point can be classified as a "hard" point or a "soft" point. Hard points denote actual inputs or outputs joined to the SCADA system. A soft point represents results from math and logic actions. For example, you might want an alarm when the generator is off AND power is off.
A system will normally store SCADA point values as a combo of two things. It will store the value and a NOW timestamp. When looking at logs, network staff can then view a log of that individual point.
SCADA Point Histories Can Pinpoint Problems With Individual Network Devices
Looking at a SCADA point log can be helpful to staff when monitoring their network in great detail. These SCADA point logs can alert staff when they may be experiencing a recurring problem. This might be with only a single input or output device. This alert allows them to make the needed changes to keep their network working at maximum efficiency.
Want to Learn More about SCADA?
The SCADA Tutorial White Paper from DPS Telecom is a Great Place to Start. DPS Telecom has decades of experience with remote monitoring gear. This expertise has been condensed and assembled into the SCADA Tutorial white paper. It's a great introduction to SCADA concepts. In just a few minutes, you'll learn tricks of the trade from seasoned DPS professionals.
Download the free SCADA Tutorial Here.
Never publish dirty HTML code and double check your content before publishing articles on the web!
---
Get a Custom Application Diagram of Your Perfect-Fit Monitoring System
There is no other network on the planet that is exactly like yours. For that reason, you need to build a monitoring system that's the right fit for you.
"Buying more than you need" and "buying less than you need" are real risks. You also have to think about training, tech support, and upgrade availability.
Send me a quick online message about what you're trying to accomplish. I'll work with you to build a custom PDF application diagram that's a perfect fit for your network.
---
Make an Informed Decision
Your network isn't off-the-shelf.
Your monitoring system shouldn't be, either.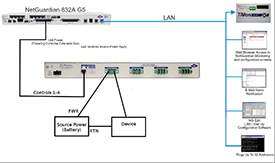 We'll walk you through this with a customized monitoring diagram.
Just tell us what you're trying to accomplish with remote monitoring.
Get a Custom Diagram