A SCADA - Supervisory Control and Data Acquisition - system is a computer application that is used to monitor and control a plant or equipment at the supervisory level.
The main components of a SCADA system are Remote Telemetry Units (RTUs) or Programmable Logic Controllers (PLCs), and a HMI (Human-Machine Interface).
If you're just getting started in the world of SCADA, it's important to know what kind of budget you should set aside for this investment and what kind of features affect your device's price.
SCADA PLC Price Range
If you want to get started with the world of automation, you can get PLCs for less than $100 with free software. However, you can expect to pay around $1000 for the hardware and SCADA software.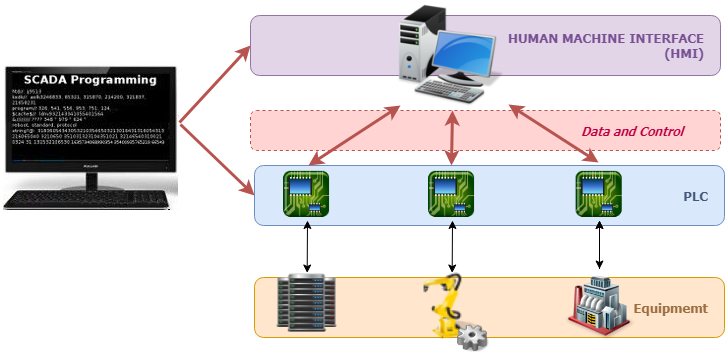 A PLC provides data and control access to site equipment from a central SCADA console.


One thing to keep in mind when purchasing PLCs is that they have a steep learning curve as they have to be individually programmed in order to perform a task. Because of that, the amount of coding you will have to do will directly affect the price of your device - the more programming required the cheaper your PLC will be.
SCADA RTU Price Range
An alternative to PLCs are RTUs. Even though they are often used to solve similar problems, RTUs don't need to be programmed - they're a solution with intelligence built-in that you can quickly get up and running.


Here are the price tiers for an RTU box.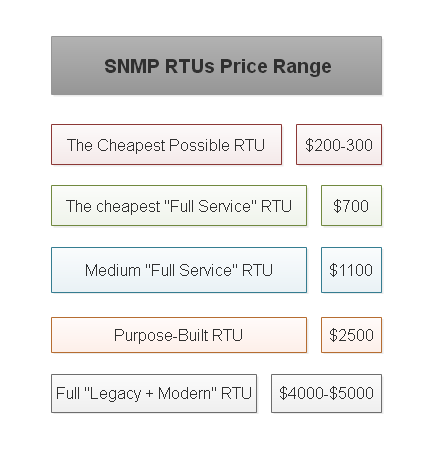 The cheapest possible RTU
The bare-minimum, low-cost SCADA RTU will cost around $200-$300. They can be well-suited for a hobbyist or for one server room where nothing is being monitored at all.
Remember, though, that a $200 RTU will not be the most reliable unit - and don't expect it to be full-featured either.
This is what you can expect to get for this price:
Small Input/Output Counts

Built-in Intelligence

Web Interface

Email Alerts

Low-Grade Circuit Components
The cheapest "full service" RTU
For around $700, you can expect to get the cheapest possible full-service RTU.
Here's what you'll probably get for this price:
Small Input/Output (I/O) Counts

Strong Built-in Intelligence

Web Interface

Open Protocol Support

Email Alerts (+SMS via gateway)

Quality Circuit Components

Free Tech Support and Training

Customization Potential

Guaranteed Future Availability
Medium "full service" RTUs
These cost-effective units will be around $1,100.
These remotes will have around 16 discretes, and usually 2-8 of analogs inputs and 2-8 relays. They're medium-sized, but everything else from the previous small full-service RTU remains the same. The only difference the bigger capacity.
Purpose-built RTU
This is the middle of RTU industry price range where you'll find units for about $2,500.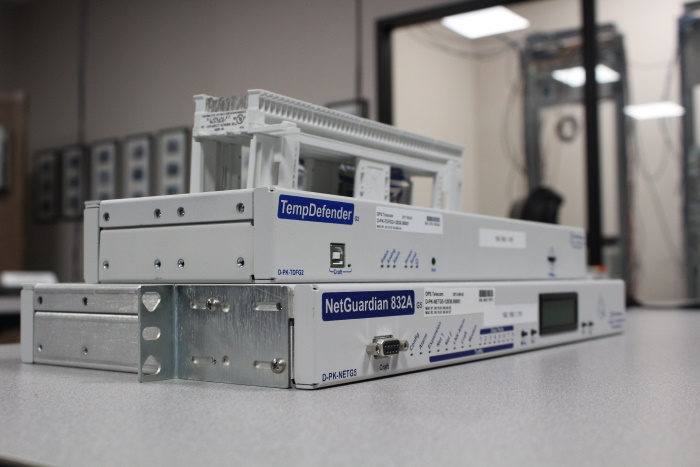 The NetGuardian 832A G5
is a field-proven, full-featured alarm remote unit.
The TempDefender
keeps tabs on all the environmental levels and equipment alarms.
For this price, you can purchase a purpose-built RTU. It'll have fully customized transport and protocol to match your exact requirements. At this price range, any customization should be possible.
With these RTUs, you can also get high inputs and output counts. You might have 32-64 discrete inputs, 8-16 analogs, and 8-16 control relays.
Full "legacy + modern" RTU
At the top of the industry price range at $4,000-$5,000, these RTUs have legacy capability - which means that they can deal with legacy transport and legacy equipment in modern networks.
High input/output range is given in this price range. You can get 64 to 80 discretes, 16 to 32 analogs, and 16-32 relays.
Also, at this price, your RTU should be totally tailored to your needs. Whatever you need can be designed and built to your exact specifications. Expect nothing but top-quality components, excellent manufacturing, and future guarantees.
What Affects HMI Price
If you have multiple RTUs deployed at your remote sites, the best practice is to invest in a competent HMI.


A SCADA HMI is also referred to as a SCADA Manager or SCADA Master.
Just like for PLCs and RTUs, the HMI cost depends on many factors.
So, let's take a look at some of the key factors that will affect your HMI price.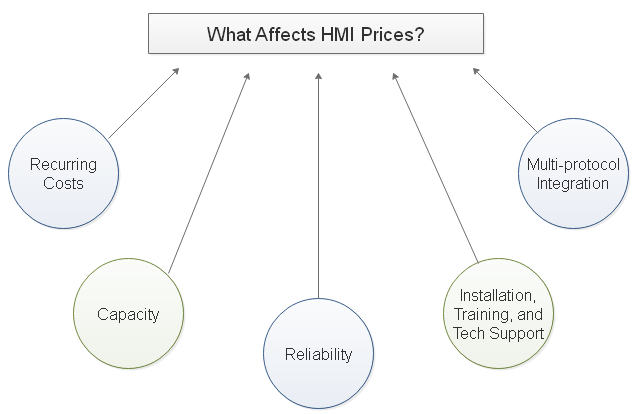 1. Recurring Costs
Recurring costs, such as licensing and maintenance fees have a huge impact on your initial purchase price.
You need to understand what your recurring costs are going to be because you might be paying these ongoing fees forever.
2. Capacity
The number of devices that your HMI can support obviously has a huge impact on its price.
So, the number of devices you want to monitor, it's going to reflect on the price.
3. Reliability
As your network gets larger and more and more people depend on it, for example, if you're a Telco or a power supply utility company, or even a public safety radio, you understand the importance of a system that has maximum uptime.
4. Included Installation, Training, and Tech Support
These are big items and they either can be expensive or maybe not even available at all, depending on the solution you choose.
The more services included with your overall purchase, the more those services will affect your upfront purchase price.
5. Multi-protocol Integration
In all likelihood, you have much older gear that you still want to use, and these gear only work with legacy protocols. This means that you need an alarm master that can handle many different protocols.
SCADA HMI Price Range
Absolutely Free Tier
This is going to be an open-source software that you just install on a PC work station. And, although it's really just you against the world, it can be effective - especially if you're getting started.
It's important to really think about reliability as you consider going with free tools.
$10,000 Price Tier
This is where you'll start to see integrated hardware/software appliances, and they can actually be as capable as some managers that can support thousands of devices.
The major difference is that they might have a limited site count, so, for example, you might see yourself limited to sixteen or sixty-four RTUs to use at your various remote sites.
$50,000 - $60,000 Price Tier
Here you start to see similar hardware/software appliances, but they're uncapped so you might have thousands of devices you can support.
Also, you start to get options for enhanced reliability like having a dual redundant set of alarm masters, where you might have one in one state that maybe is hurricane-prone and another in another state. So, if that primary goes down, your secondary master can take over very quickly.

A SCADA HMI can provide a number of helpful extensions for network alarm management.
$100,000 and Up Price Tier
In this price tier, you'll get massive enterprise-grade SCADA managers. So, if you're a multinational network, or maybe if your span across multiple states, that's something to really think about.
If you need to monitor thousands upon thousands, or maybe tens of thousands of sites, then that's where you'll start to get to the point where this kind of six-figure alarm masters can make sense.
Drop us a Line and Get a Detailed Quote
The bottom line is that your SCADA investment will depend on your situation now, so it will really depend on your individual needs.
The best way to get to what you're trying to accomplish is by talking to a remote monitoring system expert. So, contact us and let's start working on your SCADA solution.
There is no other network on the planet that is exactly like yours. For that reason, you need to build a monitoring system that's the right fit for you.
"Buying more than you need" and "buying less than you need" are real risks. You also have to think about training, tech support, and upgrade availability.